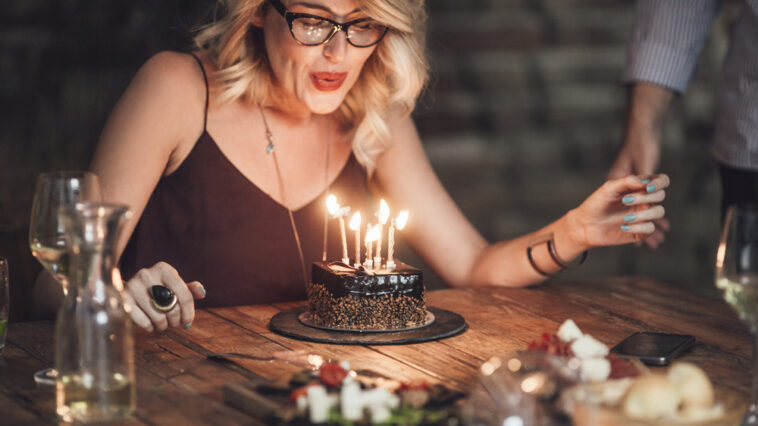 Most people consider their birthday to be a very special day. It's a time when they feel happier and more loved than usual.[1]
In fact, Americans as a whole say they enjoy celebrating their birthdays more than most other major holidays, with Christmas and Thanksgiving being the exceptions.[2]
Christian birthday wishes can be especially meaningful as they often reflect the sender's faith and hope for the receiver to feel God's love and grace on their birthday, as well as throughout their life.
Whether it's for a sister by blood or in Christ, we have the list of Christian "Happy birthday, sister!" messages to share.
You'll also find helpful tips for creating your own birthday message below the list.
Happy birthday to my beautiful sister! May this special day be a reminder of God's great love for you and the wonderful things he has in store for your life.
Sisters are truly heaven-sent, and I thank God that you're in my life every single day. Happy birthday, sister!
Wishing a happy birthday to my sister, who has the wisdom of Solomon and the humor of a stand-up comedian. You certainly broke the mold when you came to this earth.
Wishing my sister a birthday filled with God's presence, love, and grace. May he grant you the desires of your heart and send angels to watch over you.
On your birthday, I pray that God's love and light will shine through you. I hope you have a blessed and joyful birthday, sis!
They say laughter is good for the soul, so let's laugh, eat cake, and thank God for another year of being sisters! Happy birthday, sis!
Have a wonderful and blessed birthday, sister, and may God's love sustain you through every season of life.
I just wanted to send my sister the happiest birthday wishes ever! May you walk with God by your side every step of the way in the coming year.
As we celebrate another year of your life, my wish for you is that you'll grow stronger in faith and nearer to Christ. Happy birthday to my favorite sister!
Age is just a number, but for you, it's more like a Bible verse — always inspiring and never boring. Happy birthday to my sister, who is full of faith and fun!
On your birthday, sister, may you be filled with God's love and an outpouring of joy. Happy birthday!
Happy birthday to my precious sister! May God's grace and favor fill your life and his abundant blessings be poured out upon you.
As you blow out your birthday candles, I pray that God's light will illuminate your path and lead you to all the success you deserve! Happy birthday, sister!
May God's love and joy be with you on your birthday and throughout the coming year. Happy birthday, sister! You truly are a cherished gift from above.
Happy birthday, sis! I'm so thankful for the blessing of having you as a sister. May God's love surround you and his wisdom guide you to every good thing.
Dearest sister, as we celebrate this special birthday, may you feel the peace and warmth of God's love surrounding you.
Wishing a joy-filled birthday to my sister in Christ. I hope your day is as wonderful as you are.
My greatest wish is that God will pour blessings upon you on your special day and every day. Happy birthday, sister!
Happy birthday, sister! May the Lord fill the coming year with answers to your prayers, guidance from above, and strength to face whatever comes your way.
Happy birthday, sis! Never forget that you're loved tremendously, not only by your family but also by your Father in heaven.
[Sister's name], thank you for being such a tremendous blessing to me and countless others. May your birthday be filled with love, joy, and God's sweet embrace.
On your birthday, I thank God for giving me such a wonderful sister! May his love and favor follow you wherever you go in life.
Wishing a joyous birthday filled with God's grace and blessings to my sister in Christ!
How to Create Your Own Birthday Message
There's a lot to consider when creating a meaningful Christian birthday message, from your sister's faith to her unique personality to the relationship you share.
Keep these tips in mind to write something great for your one-of-a-kind sister:
Express your love and appreciation for her. Be sure to include your gratitude and love for your sister. You may also want to share reasons why she's a blessing to you and what makes her special.
Include a favorite scripture or quote. If you or your sister have a favorite scripture or spiritual quote, it could be the perfect addition to your birthday message! If not, search the scriptures or the internet for a topic that's personal to your sister to find some great options.
Share meaningful memories you and your sister share. Consider incorporating memories of your sister that you've found uplifting or have strengthened you in a difficult time. You could also include experiences others have shared with you about times when your sister has been a blessing to them.
Express your birthday wishes for her. A birthday message is the perfect time to extend your heartfelt wishes and blessings to your sister. Wishes to share could include God's love, guidance, favor, or wisdom for your sister in the coming year.