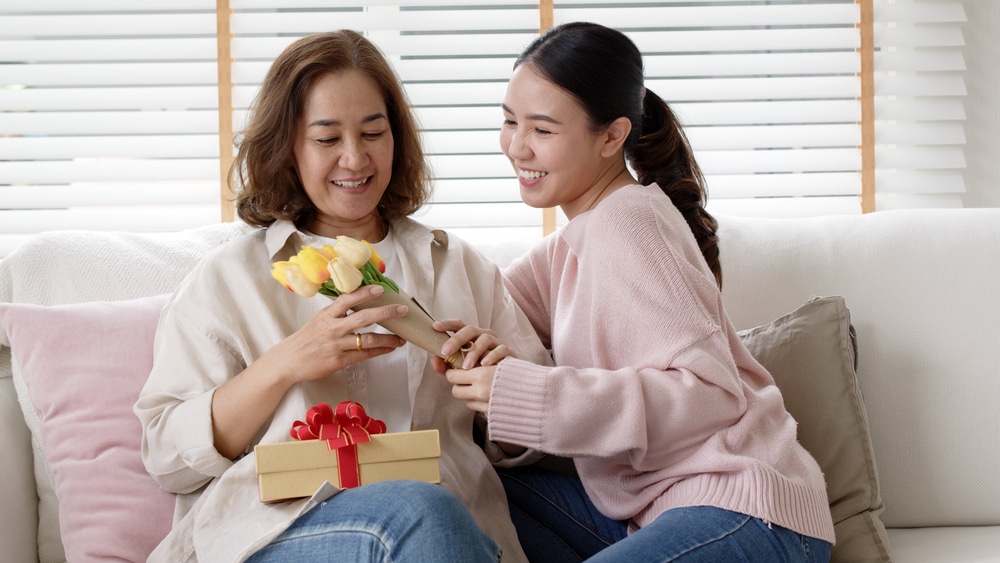 Celebrating mothers can be traced back to the ancient Greeks and Romans.[1]
The roots of Mother's Day in the United States date back to the nineteenth century as "Mothers' Friendship Day."
However, it wasn't officially recognized until 1914 when President Woodrow Wilson signed the document to make the second Sunday in May Mother's Day.[1]
Today, this is a holiday anticipated and cherished by mothers everywhere.
But what about the mothers whose birthday falls so close to Mother's Day that one or the other occasion is forgotten?
Below, we have the list of special messages children and adults alike can share with their mothers to wish them a happy birthday while also showing their appreciation for Mother's Day.
We also share a few ideas for the perfect combined birthday/Mother's Day gift.
For your birthday and Mother's Day, wishing you twice the fun and happiness.
I admire your strength, courage, and patience this Mother's Day. I wish you all the love, success, and joy in the world for your birthday.
Best wishes to a wonderful mother on her birthday and Mother's Day.
Mom — You're the only woman I know who's special enough to celebrate a birthday [on/this close to] Mother's Day!
Happy Mother's Day and birthday — own it like the boss you are, Mom.
Best birthday wishes to you this Mother's Day.
Happy birthday, with lots of love from me. Happy Mother's Day, with all my gratitude for loving me.
How special to celebrate your birth and mine together. Happy birthday and Mother's Day!
Wonderful birthday wishes to a wonderful mother this Mother's Day.
Double the love and double the happiest hopes for you to have a wonderful birthday and Mother's Day.
I'm so thankful this Mother's Day and every day that you're my mom. Happy birthday, Mom!
The greatest gift I've ever been given is having you as my mother. Happy birthday and an extra happy Mother's Day!
Wishing you the loveliest Mother's Day and happiest birthday ever!
Mothers who celebrate their birthdays and Mother's Day together deserve the world.
There's never been a woman more deserving of being celebrated on Mother's Day. It's extra special getting to celebrate your birthday too! Happy birthday, Mom!
Happy Mother's Day to the birthday girl. You're so many things to so many people — taxi driver, nurse, teacher, chef, photographer, tear wiper — but today is all about you.
Happy birthday! And here's to you this Mother's Day! I'll never be able to give you everything you've given me.
Creative Combined Birthday and Mother's Day Gifts
Once you've chosen the perfect message to share with your mom for her birthday and Mother's Day, all that's left is to find the perfect gift. This can be tricky if you're keeping both occasions in mind.
We've compiled a few ideas below, including inexpensive items as well as moderate to pricier gift ideas.
Inexpensive Gift Ideas
Mason jar with your mother's favorite flower seeds — you can decorate the jar together!
A scrapbook filled with your favorite memories of you and your mom together
Journal and colorful pens — you complete the first entry about why you love your mother
Homemade card tailored to these combined occasions and handpicked flowers
Get all caught up on her housework as a surprise (This is a dream come true for most mothers!)
Warm fuzzy slippers with a kind note and a mother-daughter or mother-son joke you two share hidden inside each one
Write her a poem, even if writing isn't your strong point!
Moderate to Pricier Gift Ideas
Popcorn, her favorite candy, and a DVD you both love for a fun night in together
Custom bracelet with both your names (and siblings' names, if you have any)
Diamond or pearl earrings
Custom family portrait (painted, drawn, or photo print)
Dinner at her favorite fancy restaurant
A bubble bath set with a bathtub tray caddy
Weekend road trip
Temperature-controlled smart mug