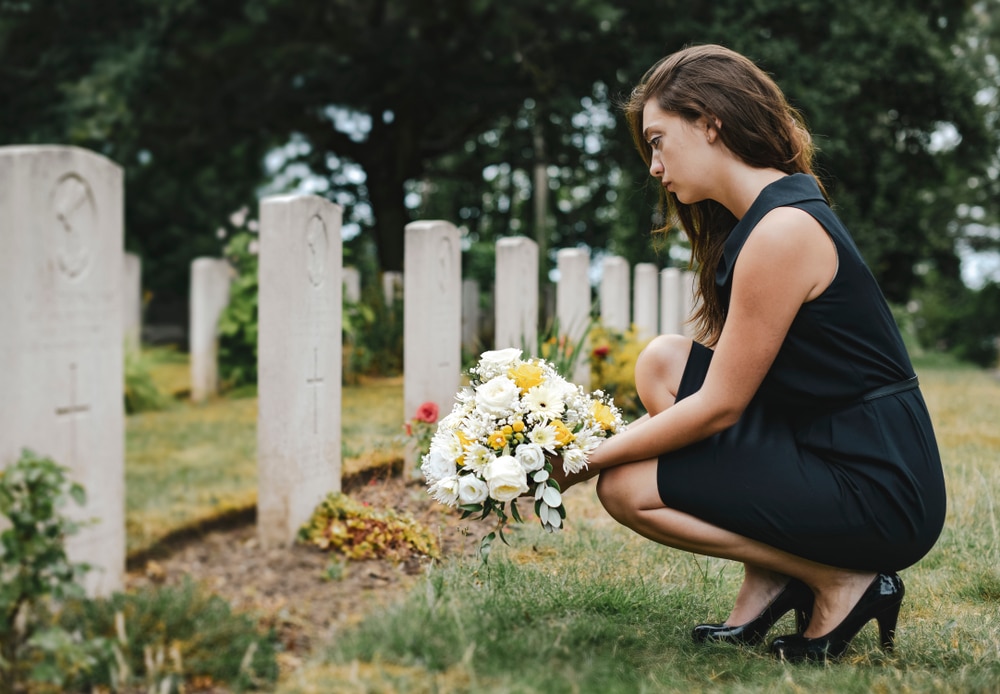 Having a sister is one of life's greatest blessings. Losing her is something from which you never truly recover.
It can be especially difficult during the times of the year that were or would be significant if she was still here.[1]
Mother's Day is particularly difficult if you're raising her children or are very close to them.
Grief experts suggest continuing to have conversations with lost loved ones to help find comfort and to aid in coping with this sadness.[2]
Of course, it can be difficult to know what to say.
Below, we share 19 meaningful ways to say Happy Mother's Day to a beloved sister in heaven.
We also share some ideas to help you craft your own message.
Your life was a blessing, your memory a treasure… you are loved beyond words and missed beyond measure — Happy Mother's Day in heaven, sis.[3]
As mothers go, you and mom were the greatest. Happy Mother's Day to you both in heaven.
To my sweet sister — You are missed. You are loved. Your [daughter/son] is growing to be every bit as beautiful as you. Wishing you a Happy Mother's Day from me and [her child's name].
I just want you to know your children have grown to be healthy, happy, wonderful individuals. Not a day goes by that we don't think of you and miss you deeply. We're sending you all our love this Mother's Day.
Sis, you left us beautiful memories. Your love is still our guide, and although we cannot see you, you're constantly at our side. Happy Mother's Day in Heaven.[3]
My days are certainly darker without you here on earth. But I am so thankful for all the happy memories you've given me and for the blessing and honor of being able to know and love your children as I do. Happy Mother's Day, sister.
Hey [big/little] sis — You're always on my mind and in my heart. I couldn't go through Mother's Day without wishing you the happiest of days wherever you are. There will never be another like you.
You always were and still are a piece of heaven on Earth to me. Happy Mother's Day from me and your loving children.
Sister, your memory is a keepsake, from which I'll never part. God has you in his keeping; I have you in my heart.[4] Wishing you all the best this Mother's Day. You will always be loved and never forgotten.
I miss you every second of every minute of every hour of every day.[5] Happy Mother's Day to my beloved sister.
Happy Mother's Day, [sister's name]. Even though I can't see you, I know you're watching over us all from heaven. Thanks for being such a blessing in my life.
You were always more of a mother than a sister to me. Thank you for every sacrifice you made and for loving me so much when you didn't have to. Happy Mother's Day to you up in heaven, sis. Love you.
Wishing you a Happy Mother's Day, sister, with all my love and all my heart. I know you must be the most beautiful of all God's angels.
May the winds of heaven blow softly and whisper in your ear, how much we love and miss you and wish that you were here.[6] Happy Mother's Day to my dearest sister.
You were a wonderful sister and mother. My gratitude for knowing and loving you is endless. Happy Mother's Day from us to you. We love you so much.
I wish I could turn back the clock. I wish there was a way to express how much I love and miss you — how much we all do. I hope you have a wonderful Mother's Day in heaven.
I honor and celebrate you this Mother's Day, sister. You're such an inspiration to me. Until we meet again, Happy Mother's Day.
To my beloved angel of a sister — have a marvelous and magical Mother's Day.
If there was ever a woman who deserves to be celebrated on Mother's Day, it's you. You've always given so much love and happiness to your family. You left behind a legacy of the most wonderful memories. Happy Mother's Day, sister.
How to Create Your Own "Happy Mother's Day" Message for Your Sister
Your relationship with your sister was and is special, and there's so much to remember about her that could help make your message even more beautiful.
If you'd like a more personalized message to share, we have some helpful tips for creating one tailored to your own sister.
Involve her children. The process of deciding what to say may be as therapeutic for them as it is for you. This also opens the door for conversation about what a terrific mother she was and how much she loved her family.
Include your sister's favorite things. If she had a deep love for teaching, gardening, singing, etc., mention that in your message. You could share how much joy it brought to your life, the things you learned from her, or how one of her children shares this special hobby or talent.
Share your message on social media, if you feel comfortable. Anyone who knew your sister will likely appreciate reading your message, especially family members and best friends. It may also offer them some peace and feelings of closeness to her.
Collect messages from others. If you're planning a trip to her gravesite to share your message, give others the chance to send theirs with you, as well. Reading what they have to say may inspire you to create your own perfect message.