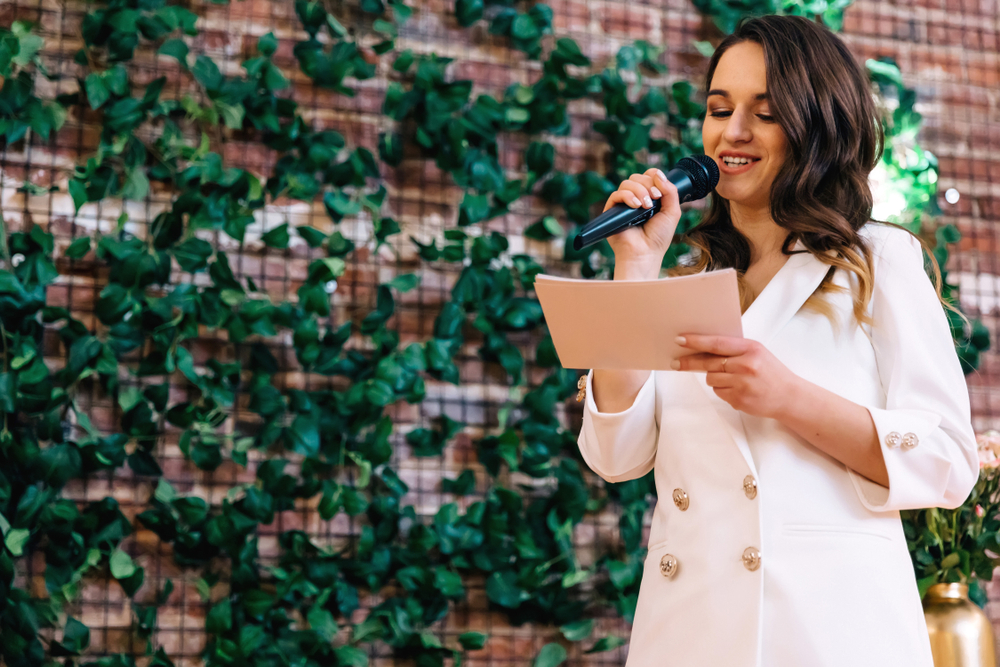 Planning an event is a big task! From sticking to a budget to booking a venue to obsessing over every little detail, the process can be overwhelming.[1][2]
Offering a helping hand will not only lighten their load, but it will benefit you, as well. Helping others reduces stress levels, which can improve our emotional and mental health.[3]
If your life's too hectic at the present or the planner prefers to do it on their own, there are other ways to lift their spirits. Offering a hug and a listening ear can work wonders.[4]
Receiving a hug reduces the release of cortisol, a stress hormone, and may reduce blood pressure and heart rate in stressful situations.[4]
Wishing others well is also a great way to boost their mood.[5]
No matter the occasion or your relationship with the person in mind, we have the list of ways to say, "Best wishes for a successful event."
You'll also find helpful ideas for choosing the right message below the list.
It's kind of fun to do the impossible. All the best in hosting your grand affair.[6]
Dream big. Sparkle more. Shine bright.[7] I know your event will be a smashing success!
Your last event was amazing! People are still talking about [memorable occurrences]. I just wanted to wish you good luck on the next one.
You were [chosen/hired] to put on this event for a reason, so don't stress. You're going to rock this!
Wishing you all the best in planning [event name]. I can't wait to see what magic you work this time.
Congratulations on this terrific opportunity! I know you'll create the event of the year.
Good luck with organizing yet another successful event. You truly are the best at what you do.
Sending you all the luck in the world. You have always been a natural leader who can connect with anyone. You're going to impact so many people at your special event.[8]
I wanted to send you a kind reminder that I believe in you. You've been working hard for this opportunity, and I have the utmost confidence in your event planning skills.[8]
I hope you have as much fun planning the party as we both know everyone will be having on the big [day/night]. Best wishes, and let me know if you need anything.
You've worked hard to get this far. Best wishes as you make this final push![9]
I wanted you to know I'm thinking about you as you prepare to host your big event. Just have fun with it and do your best.[10]
I enjoyed seeing you the other day, though I could tell the event planning is getting to you. Hang in there, and I know it will be amazing.
No matter the outcome, I'm so thankful to you for arranging the [event name]. Best wishes, and don't stress too much.
Best of luck with your upcoming event. Just remember, someday it will be in the past, and everyone will remember the wonderful job you did.
Good luck with the upcoming event. You've got this!
Love and luck to you on your big day. I can't wait to hear all about it![10]
Prayers and good thoughts coming your way for an auspicious event. Good luck![10]
Hope you're not stressing over the big event. You're the best person for the job, and I know it'll be a total success.
I was so excited when I heard you're the one planning the [event name]. It's sure to be a [day/night] to remember. Good luck — not that you'll need it!
I can't wait for your event tomorrow! Best wishes that it will be a huge success.
My fingers are crossed for a successful event, and please let me know how it goes.
Try not to worry. Your get-together will top all the others. I'll be there supporting you 100%, promise.
Good luck with a big turnout at your event! I'll be rooting for you.
I just wanted to let you know I'm here to talk or lend a helping hand. I know you've been stressing over the upcoming event. Sending you all my best wishes and happy thoughts for a successful affair.
All the best in planning this [month's/year's] [event type]. I know it will be a great success with you at the helm!
I know your upcoming event has been a struggle, but I also know you're up for the challenge. Best of luck to you![10]
Good luck with your event today at work! I know this is important to you and I can tell you prepared well for this moment. You're going to do great![8]
Wishing you nothing but great success in your upcoming event.
Good luck today. I'll be thinking of you.
The way you approach a challenge is exemplary.[6] Best wishes for tremendous success in your event.
How to Choose the Perfect "Best Wishes for a Successful Event" Message
There's a lot to think about when choosing the right message to share, from whether you're directly involved with the event to how smoothly the planning process has progressed.
Below, you'll find things to consider when choosing the best message for your circumstances.
Consider your relationship with the receiver. If you're choosing a message for someone with whom you share a professional relationship, make sure to choose a message with a similar tone. If it's for a close friend or family member, you may want to go with something more lighthearted and personal.
Add your personal touch to the message. If you're writing to someone with whom you share an inside joke or special memory perfect for this occasion, add it to your message. If your message is for a colleague or other professional acquaintance and you have a great work story or advice to share, keep that in mind. Using something personal will make your message seem even more special and show the recipient how much you truly care about their success.
Choose the message with the best flow. You might want to expand the message with a few personalized words of encouragement, as suggested above, or combine messages from the list to create something longer. Try out several combinations before making your final choice, so you can be sure the message sounds natural and positive.
Consider how you'll deliver the message. Keeping this in mind will help narrow down the choices. If you're writing a text, sending "good luck" flowers, or simply jotting a nice note down on a Post-it, go with something short and simple. A handwritten letter, however, is a great opportunity to share a longer message.