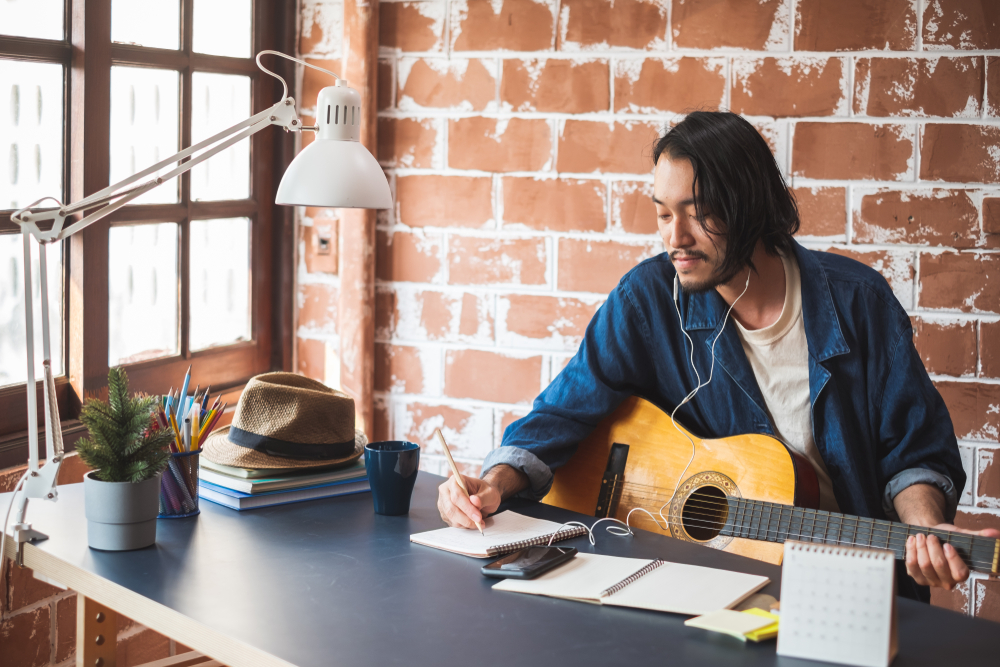 Music is a powerful thing. It's been used as a form of healing therapy around the world for centuries.
Today, brain scans show that music can have a healing effect on the mind by creating new neuropathways around damaged areas of the brain.[1][2]
In addition, music has a stronger impact on our emotions than movies, television shows, or books. It can even influence our behavior.[3]
Music can set the tone and even make or break an event. It's the musicians behind the music that truly make the magic, though.
If a musician has worked their magic to help make your occasion extraordinary, or perhaps shares their magic continually as a music minister, be sure to reach out and let them know how much they're appreciated!
We have the list of words of appreciation you can offer to a musician below, as well as how to create your own message.
You truly are a musical artist of the highest calling, and your music touches so many on so many levels, spiritually, emotionally, and physically.[4]
People are still talking about how great it was to have you play at the [party/wedding/etc]. Thanks again for making it a day I'll never forget!
The room lights up wherever you make music. I wanted to let you know how much I appreciate everything you do.
I look forward to the hymns every Sunday when you are at the organ. You are a master![5]
What a performance! You really "rocked" it out of the park. I can't thank you enough for sharing your awesome talent.
Thank you for introducing me to [genre of music] and encouraging my love for music.
You gave a smashing performance. Honestly — it was the best concert I've ever been to.
I enjoyed your [vocal/instrument] solo. Thank you for taking the time out of your busy schedule to prepare for and put on that performance.[5]
You've made the world a more beautiful place with your music.
On behalf of our entire family, thank you so much for providing the beauty of song at [person]'s funeral. Your voice was so angelic, and the lyrics of each song were incredibly meaningful.[6]
Your voice is amazing! I wish I could sing half as well as you can. You were truly born with a gift that has touched my life.
We are so thankful to you, [name or band], for providing your musical services. We couldn't have asked for anything more.
Thank you for volunteering your time and sharing your beautiful gift of music with us.[7]
Thank you so much for your loving devotion to providing our church with your beautiful music over the past many years. We have truly been blessed by your musical ability, and we want you to know how much we appreciate your time and talent. You have helped make our church a very special place of worship.[8]
Your hard work and talent show in everything you do. You're amazing and truly appreciated!
It has been such a pleasure to hear the beautiful music you've created. You have a true gift![9]
A million thanks to you for your music. It's meant so much to me.
Just wanted to send you a "note" to show my appreciation for you.
Thank you for sharing the gifts God gave you as you help us worship and give praise to the Lord with your beautiful music.[10]
Thanks again for playing at my party. You really made it a rockin' time!
Thanks for "banding" over backward to make my event a smashing success. I look forward to working with you again in the future.
You guys made the night a "band" slam! Thanks again!
Thank you for playing for us at church each week. I love listening to your music.[5]
I appreciate how well you can play [instrument]. Your talent amazes me.[5]
Thank you for rockin' with me! You made my birthday so cool![11]
I just wanted to thank you for the music you've put out there. It's made a huge impact on my life and brightens my soul every time I listen to it.
Thank you for being such an inspiration to me. I hope I can follow in your footsteps.
How to Write Your Own Words of Appreciation for Musicians
You may want to create your own message for a truly unique and talented musician, especially if they did an outstanding job!
Here, you'll find helpful tips for creating your own appreciative message:
Mention the event. If you're thanking a musician who plays for multiple venues, this will make your note stand out and show them how memorable their performance truly was for you. You might also want to include how they helped to make your event a success.
Compliment their musical talent. A nice way to say thank you is to include a compliment. You don't need to get too technical if you don't have a deep knowledge of music — just let them know which song(s) you enjoyed or how beautiful their instrument sounded. Letting a musician know how talented they are will make them feel good, and they'll be more likely to want to work with you again in the future.
Let them know how their music made you feel. Considering the powerful, moving effect music can have, it'll be nice to hear about the impact their music had on you. Let them know if it tugged at your heartstrings or got everyone out of their seats and dancing!