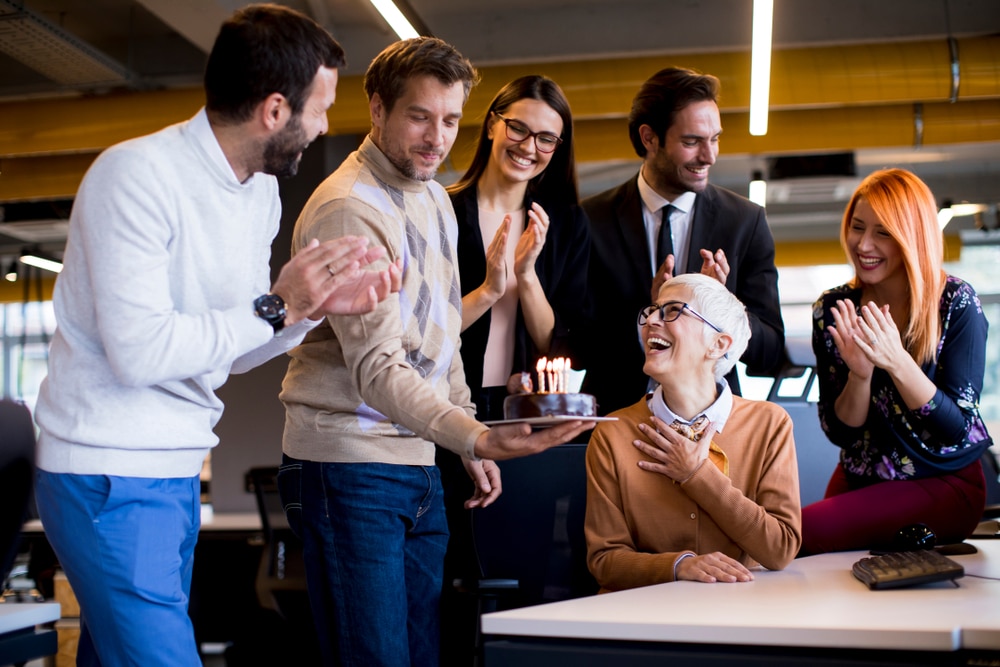 There are many ways to say "goodbye," from a formal "farewell" to a quick "TTYL" text.
The word "farewell" itself dates back to about the 14th century. It comes from a Middle English phrase, "faren wel."[1]
A farewell message can be significant if you won't be seeing someone for a long time, such as if they're leaving the company you work for, transferring to a different school, or moving to a different state.
Gifts like farewell cakes can let the person who is leaving know how much you'll miss them — but they're often delivered with a sense of humor, too, to keep your parting from being too sad![2]
Whether you're looking for something professional or funny, we have more than 20 farewell cake message ideas below.
Scroll past the list for our tips on creating your own farewell message or choosing a farewell gift!
Good luck with your new adventure![3]
Good luck… finding better co-workers than us![3]
Goodbye! Don't cry — we won't![3]
Farewell and good luck![4]
Congrats, traitor![5]
How lucky we are to have something that makes saying goodbye so hard.[3]
Wishing you success on your new adventure![6]
Congrats on getting out of this dump![3]
Goodbye, quitter! We hope you fail![7]
Remember us when you're famous![6]
Fine. Go.[8]
Error 404: [Person's Name] Not Found
And stay out![8]
We miss you already! Take care and good luck[3]
Get Lost!
Thanks for your "hard work." You may use this cake as a reference.[8]
You are irreplaceable! Thank you for being a real inspiration to us.[3]
Goodbye forever![8]
Thanks for nothing!
Haven't you left yet?[7]
We will miss seeing you in the office. (Not really.) Have a great life.[3]
So sorry that you're leaving. We'll never forget you, err… um… sorry, what was your name?[8]
Goodbye! We will miss trying to avoid you around here![3]
Tips for Choosing Farewell Messages and Gifts
While our list provides plenty of options ranging from snarky to professional, you might want to write your own unique farewell message.
It's also common to give farewell gifts when someone is leaving a company or moving.
Keep the following tips in mind when choosing farewell cake messages or gifts:
Make it personal. Anyone can buy a basic "Good luck!" card with a gift card and give that as a farewell gift. Putting more thought into your message and gift will let the recipient know how much you care about them. Even if you choose to go the "greeting and gift card" route, share a few fond memories in the card and choose a gift card to a store you know they shop at regularly.
Keep the mood light and hopeful. Saying goodbye is hard! It can be a good time for sentimental and heartfelt messages, but keeping the mood light will make it easier for everyone and make the person who is leaving feel assured about their future.
Read the room. Funny farewell messages are always memorable crowd-pleasers, but be sure not to choose anything inappropriate for the setting. For example, if a work colleague is leaving the company, you'll probably want to keep your message free of profanity or crude humor regardless of how friendly your office environment may be.