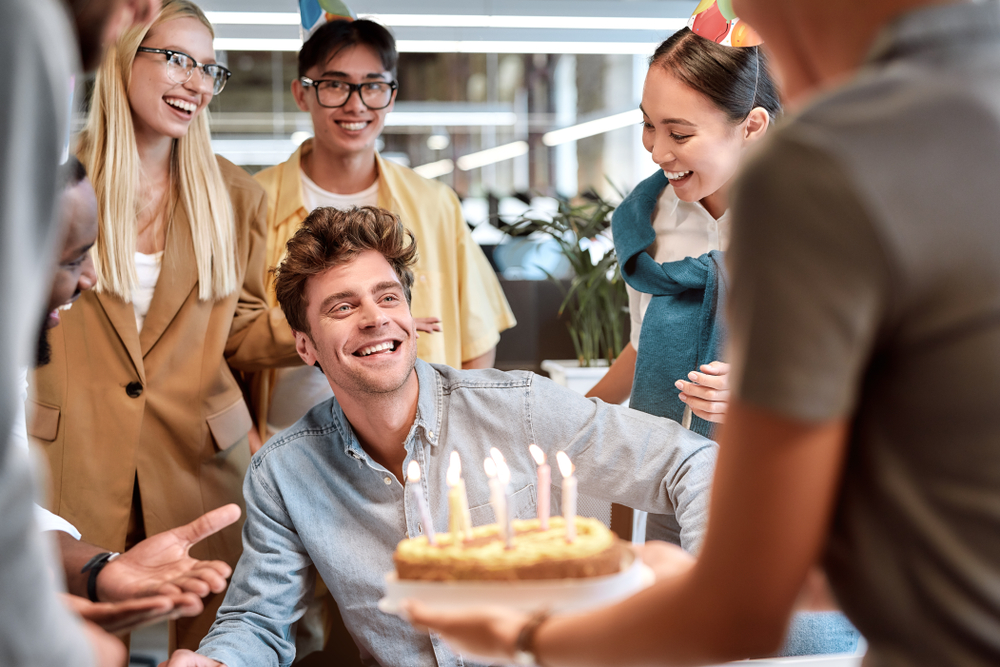 Staying in touch with an ex-colleague can lead to future job references and help you build a solid professional network.[1]
A great way to stay in touch without becoming too personal is through social media. This provides an opportunity to send congratulations, best wishes, and other brief greetings when they're in order.[1]
Small acts of kindness — like wishing someone a happy birthday — will also brighten the receiver's day and often leads them to want to pay it forward.[2]
We provide the list of birthday wishes to share with an ex-colleague below, whether you're celebrating a close work friend or someone you only contact once or twice per year.
You'll also find tips for choosing the right message below the list.
Happy birthday to the ex-colleague who has the best ex-colleague in the world![3]
As coworkers go, you were pretty epic! Thanks for all you did each and every day. Wishing you a super happy birthday.[4]
Happy birthday to my old partner in mischief. Here's to many more adventures for us both.
Today is your birthday, and you deserve to celebrate! Thank you for all the positivity and great vibes you brought to work each day. You were one of the greats.[4]
I'm still sad to be calling you an ex-colleague. It was so much fun working with you. Happy birthday, my friend!
From my desk to yours, wishing an old work buddy the best birthday ever!
Wishing the sweetest person at the workplace the sweetest birthday celebration ever![5] I miss working with you every day.
Happy birthday, [Superwoman/Superman]. You have no idea how you inspire me every day. Glad to have had an amazing coworker like you. Enjoy your birthday![6]
Happy birthday to the [man/woman] who taught me so much. I'm so lucky to have worked with you!
Happy birthday to you! Your dedication to your work always inspired me when we shared the office. I truly appreciate and respect you. Best wishes to you and your family.[6]
Happy birthday! I hear you've really taken the industry by storm since you left [place of work]. I'd love to get together sometime to hear all about it. Hope your birthday is one to remember.
Happy birthday to my favorite ex-coworker.
Happy birthday to you from everyone at the old office. Hope you're having a smashing good time at the new job.
Happy birthday to the colleague who made every day at work an adventure! I sure do miss working with you.
Happy birthday and congratulations on [achievements]. Remember the little guys as you climb the corporate ladder.
Wishing you all the best on your special day. It hasn't been the same around here without you.
I want to use your birthday as an opportunity to tell you how boring this place is without you. You really were the light of the workplace. Happy birthday, [name]![6]
Nobody worked harder than you and nobody brought as much laughter and fun. Happy birthday to an awesome ex-coworker.[4]
I often miss all the fun you and I used to have together. I miss you dearly. Happy birthday to you![5]
Wishing my awesome ex-coworker a very happy birthday. You brought 100% each day, and we'll never be able to replace you.[4]
Happy birthday to a hard worker! It was great to work with someone as respectful and knowledgeable as you. May all your dreams come true.[4]
Wishing you a birthday full of all the fun and laughter we used to share at work.
I just wanted to send a note wishing you the best birthday and the highest success in the coming year.
You're one of the most brilliant colleagues I've ever had. May all your birthday wishes come true.
Happy birthday to my amazing ex-coworker! I hope all your fondest wishes and dreams come true.
Sending you every hope for a wonderful birthday and wishes for grand opportunities, big promotions, and lots and lots of money!
May this new era usher in a long life, wisdom, and the capacity to lead well as you've always done. I wish you nothing but the best in your future. Happy birthday![7]
You may also find our list of professional ways to say "I miss you" helpful if you'd like to include this in your ex-colleague's birthday message.
How to Choose Your Birthday Wishes for an Ex-Colleague
Sending a happy birthday message can be a lot of fun! It also means a lot to the receiver, so be sure to make it count.
Here, you'll find tips for picking the perfect happy birthday message for an ex-colleague.
Choose a message that'll go great with a fun work memory. If you've got a particularly funny remembrance to share, pick the message that'll fit best with it. This trick would work great for tying in a meaningful compliment, as well.
Keep "professional vs. personal" in mind. Your relationship with the person should have a direct impact on the message you choose. If you're sending it to an ex-boss or someone who's only an acquaintance, you'll want to stick with a message that carries a more serious tone. If it's for someone who's become a close friend, it's okay to choose a more humorous message.
Keep it short, but tailor it to the recipient. Depending on how large your ex-colleague's circle is, they may receive dozens or hundreds of birthday messages on their special day. Keep your message short, so they can easily read it, but make it unique enough that it'll stand out amongst all of the basic "Happy birthday, [name]!" comments.
Include the gift of gratitude. Everyone loves to receive a sincere thank you. It may be helpful to consider how to tie this in with your message when making the choice.