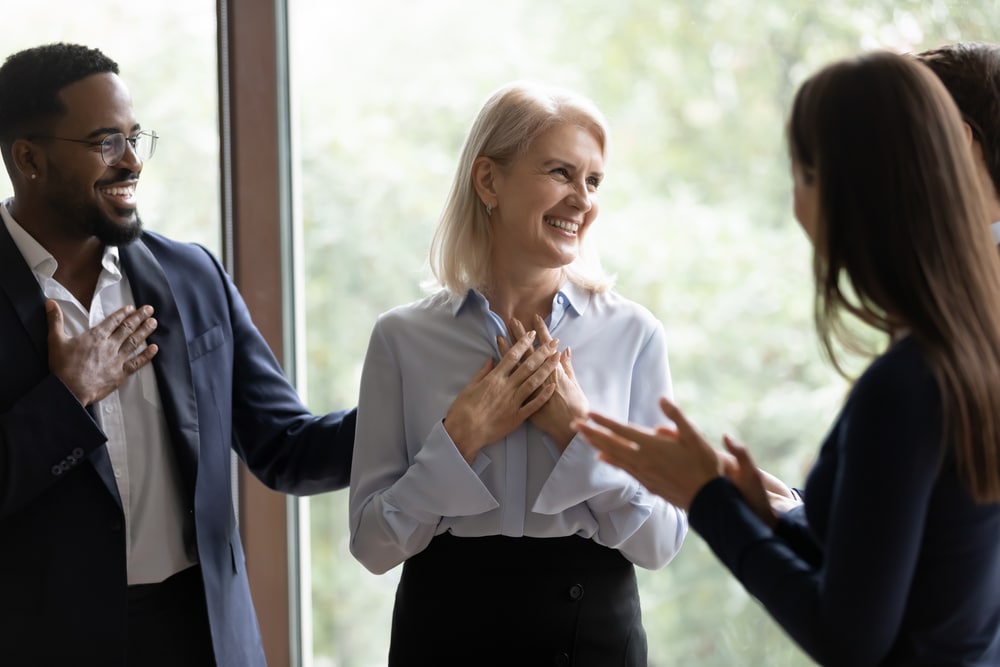 The National Association of Realtors was founded in 1908 in Chicago as The National Association of Real Estate Exchanges.
Since then, it's been reorganized and branched out into several national real estate organizations we rely on today.[1]
Realtors are an essential part of a painless property buying or selling experience.
They work hard so their clients don't have to, often on nights and weekends when homebuyers are off work and available to look at houses.
All of that hard work justifies an excellent birthday celebration!
We've created the list of ways you can say "happy birthday" to the realtor in your life. You'll find lighthearted and thoughtful greetings from clients, friends, or colleagues.
We've also provided a few birthday gift ideas below the list!
Sending you birthday wishes from our new, happy home. Thanks so much, and have a super birthday!
'House' it possible another year's gone by? Hope you have a very happy birthday and a wonderful year to come.
We wish you nothing but fulfillment and happiness on this special day! May you be blessed with sound health and enormous wealth in the coming years! Happy birthday![2]
Happy birthday to my favorite realtor, and here's to many more adventures together.
You're amazing! Keep chasing your 'homes' and dreams. Happy birthday!
Wishing you the happiest birthday ever! Love, Your 'Homegirl'/'Homeboy'
We're glad you're our realtor, so we don't have to search for a 'Home Alone.' Wishing you the happiest of birthdays, friend.
You're a rockstar, in a 'manor' of speaking. I don't know how you do it all, but you're the best realtor I know. Have a terrific birthday!
There's no place like home. Thank you so much for helping us to find ours. Hope you have a wonderful birthday and a year full of love and success!
Happy birthday from your favorite clients! You are truly appreciated.
Happy birthday to you and may all your 'dream homes' come true!
On your special day, we just wanted to let you know that we consider ourselves very lucky to have gotten the opportunity to work with you. We will readily admit that good realtors like yourself are rare. Happy birthday![2]
It's great to work with someone as honorable as you. It's even greater to honor you on your birthday. Happy birthday![3]
This year on your birthday, you must have 'lots' to be thankful for. Just wanted to let you know I'm thankful for you and wish you a happy, happy birthday!
Wishing you a happy birthday, on the house. Have a spectacular day!
Happy birthday to this town's best realtor! Wishing you good health and all the success you deserve.
From all your friends at [real estate company], happy birthday! Looking forward to another great year working with one of our top salespeople.
Birthday Gift Ideas for Realtors
Along with your birthday message, you might want to get the realtor in your life a gift! If you're close to them, they helped you find your dream home, or you just want to make their day, consider the gift ideas below.
Gifts from a Client to a Realtor
Gift card: Use a gift card to cover dinner at their favorite restaurant or gift them a week's worth of morning coffee!
Notepad and pens: While much of a realtor's work is digital nowadays, notepads and pens are still useful in the office, and cute stationery can brighten their days.
House-themed keychain: They can use it for their office keys, keys they're holding for clients, or their own home and car keys.
Desk toy: Give them the gift of stress relief with a fidget toy they can use while waiting for deals to close!
Small potted plant for the office: Plants can make their office feel more comfortable and relaxed.
Gifts from a Colleague or Friend/Relative to a Realtor
Food basket: Choose with their favorite type of food (i.e., meats and cheeses, fresh fruits, sweets, etc.) and have it delivered to the office for a mid-day pickup.
Drone: Great for taking pictures of newly-listed properties!
Desktop zen garden: It will remind them to relax during their long, stressful days.
Laser distance measurer: Property buyers always want to know accurate room sizes, and this tool can make that information easier to provide.
Portable solar-powered power bank: Realtors spend a lot of time going back and forth between their office and property showings. A power bank can help them stay productive on the go.
Self-stirring mug: Make their coffee breaks easier with a mug that will mix the cream, sugar, and syrups automatically. Some of these mugs even have warming functions!
Personalized business card holder: Marketing their services is essential to their job, so keeping business cards on hand is always important!