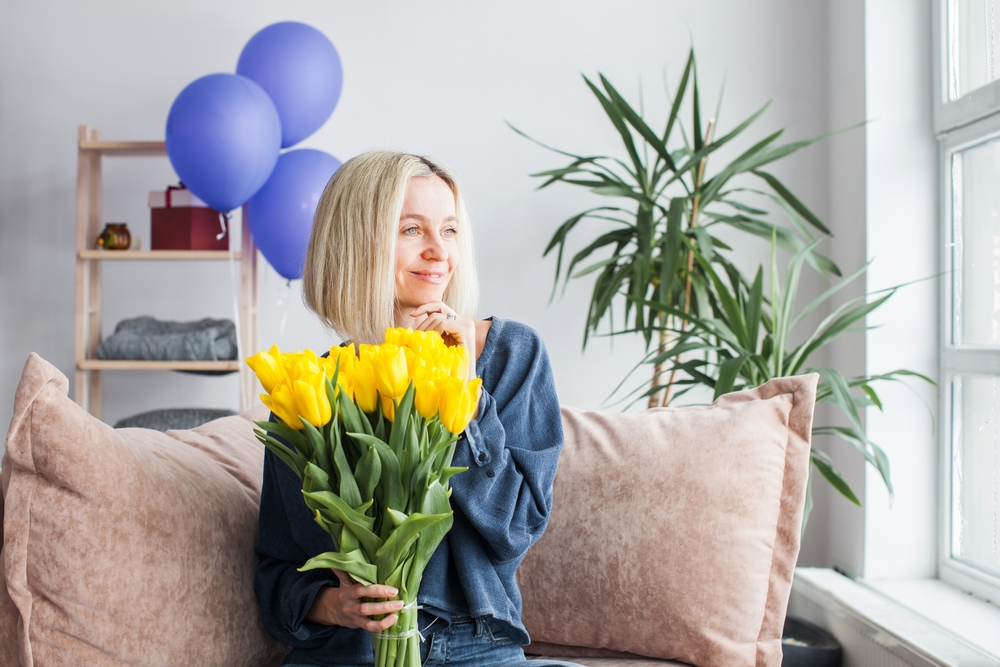 The best thing about celebrating a birthday for many is receiving gifts! Being given a special surprise sparks a feeling like no other.
On the other hand, it can be difficult to know what to give someone. A popular choice for gift givers in this situation is flowers.
The endless options for color and floral arrangement make it easy to turn this classic gift idea into a thoughtful, one-of-a-kind present to send a friend or loved one.
In fact, according to consumer trends, the majority of Americans find the gift of flowers to be especially meaningful and memorable.[1]
Once you've chosen the perfect bouquet, all that's left to do is write a "Happy Birthday" message.
Below, you'll find the list of sweet and humorous happy birthday messages to send with flowers. We also offer helpful advice for writing your own special message.
Happy birthday to someone who, like these flowers, radiates beauty and brings joy to those around them.[2]
Count your life by smiles, not tears. Count your age by friends, not years. Happy birthday![3]
You may be over the hill… but at least you're still climbing! Happy birthday![3]
Cheers to you on your special day![3]
Wishing you another year full of lots of love, happiness, and success.[3]
Happy birthday to someone who is smart, gorgeous, funny, and reminds me a lot of myself… from one fabulous chick to another![3]
To a beloved [friend/sister/etc.] — Happy birthday!
Hip-hip-hooray! It's your birthday!
Happy birthday! I send you warm wishes that your life will be as wonderful as the happiness you've given me.[4]
Celebrating you is a piece of cake.[5] Happy birthday!
Just remember — the more candles on the cake, the bigger the wish you get to make! Enjoy your day!
You're not old. You're aged to perfection.[5]
May your day be as outrageously spectacular as you are! Hope this is the best birthday by far![6]
Is it hotter in here than usual? Must be all the candles on your cake. Happy birthday![7]
Hope that your special day brings you all that your heart desires.[3]
Happy birthday from one fabulous gal to another.[7]
Wishing you a day to remember, filled with love and all your heart's desires. Have a wonderful birthday.[8]
Happy birthday to a lovely person who is cherished and a blessing to those around them.[2]
You are not only older, but wiser, kinder, smarter, and more alive with each birthday.[2]
Sending you all my love and best wishes for a wonderful birthday.
Best birthday wishes to you. I hope you chase all your dreams and follow your heart in the year to come.
Your birthday is becoming a serious fire hazard! Blow out the candles — quick! Oh, and happy birthday![9]
29 again? Talk about recycling. Happy birthday![10]
Although it's your birthday, I want you to know your friendship is one of the greatest gifts in my life. Happy birthday!
Here's wishing you a day full of pleasant surprises.[3]
Wishing you a wonderful birthday. May all your dreams come true today and always.[11]
On your birthday, I wish you love and luck, happiness, and prosperity, today and always.[12]
Wishing you a pot o' gold and all the joy your heart can hold! Happy birthday![12]
Birthdays come around once a year, but friends like you are once in a lifetime.[13]
I hope you have a terrific birthday and a fantastic year to come.
Hoping your wishes come true year after year.[14]
May you be gifted with life's sweetest joys and never-ending bliss. Happy birthday![3]
Roses are red. Violets are blue. Happy happy birthday from me to you!
Happy birthday to my bestie!
Birthday hugs and kisses incoming![15]
Best wishes to you on your special day.
HBD![15]
Didn't we just celebrate you a year ago?[15] Haha! Happy birthday!
A million magical wishes to you on your birthday.[16]
How to Write the Best Birthday Flowers Message
You may want to create your own birthday message or take one of our ideas from the list and personalize it to suit your needs.
Here, you'll find helpful tips for writing a great birthday flowers message:
Keep it short. Cards that accompany flowers are usually small, and if you're buying online, there may be a limit on the length of your message. Try to keep your message short and sweet. You can save a longer message for a letter or formal birthday card — or say it to the celebrant face-to-face when you see them!
Consider the recipient's personality. If you're wishing a happy birthday to a friend, you might want to include a little humor. If it's for a co-worker, keep it professional. Generally, the closer you are to the person, the more personal, heartfelt, or funny your message can be.
Include a joke. Everyone loves to laugh, and birthdays are a great time to spread joy. Adding a light-hearted joke will really brighten the recipient's special day.
Share a compliment. This is a surefire way to make the birthday boy or girl smile. Whether it's regarding their appearance, work ethic, personality, or talents, receiving a compliment can be as wonderful as getting a gift for their birthday.