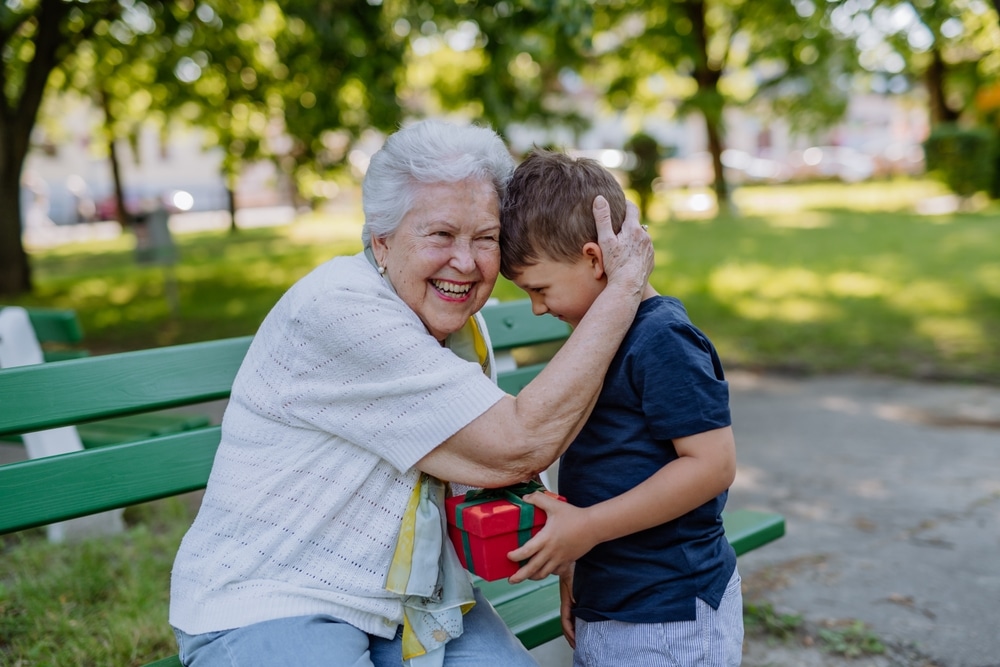 Though people are generally living longer and more women are becoming great-grandmas, there are still many people who don't form strong bonds with the older generations.
A U.K.-based study showed that more than half of people surveyed couldn't name any of their great-grandparents[1] — so if you have a relationship with yours, you can consider yourself very lucky!
Great-grandmas can enhance our lives by sharing family stories, spending quality time with us, and allowing the generations to learn from one another.[2]
As your great-grandma celebrates her birthday, a special message or card can brighten her day and remind her how much you love and appreciate her.
Below, we have more than 20 "happy birthday" messages for a great-grandma, plus tips to help you come up with your own unique options!
Happy [age] birthday, great-grandma! I hope your birthday is as bright as your smile, as sweet as your love, as fun as your spirit, and as wonderful as you are. Thanks so much for always being there for me![3]
Happy birthday, great-grandma! On this day, we wish for you to continue to greet each morning full of vigor, tenacity, and grace. Thank you for your unending care and effort toward your family and friends. Let the spirit inside you continue to shine.[3]
We are so lucky to have been enjoying you for so long! Here's to many more years of fun, laughter, and memories. Happy birthday![3]
Have a great birthday, great-grandma! Wishing you health, happiness, and joy on your special day and every day!
For a wonderful great-grandma: I hope your birthday is filled with equal amounts of love and laughter because you deserve everything that makes you happy![4]
Great-grandma, today is your special day! I hope you know how much you mean to me. Your wisdom is only exceeded by my love and appreciation for you! I hope you have the very best birthday!
Happy birthday, great-grandma! WOW! [Age] this year. That is just amazing! I was thinking about all the things you have seen and experienced in your lifetime, and it boggles my mind. I hope you have the best day possible, and know I wish I were there to celebrate with you. I love you![3]
Know what, great-grandma? If everybody had a great-grandma like you, there would be lots of smiles in the world! Happy birthday![5]
May you stay healthy and happy for years to come. We are all happy to have you here with us! Happy birthday![6]
Happy birthday, great-grandma! I hope you feel extra special today and have lots of cake. I heard that eating cake is the key to keeping great-grandmas extra sweet. So go ahead, eat cake every day! I love you![3]
Great-grandma, someone special like you comes along just once in a blue moon! May your birthday find you floating in the clouds and sparkling like the stars! Happy birthday![7]
To my beloved great-grandma, I wish you plenty of reasons to smile and a very warm birthday![6]
Great-grandma, you have a place within our hearts that no one else can fill. You're a dear and special person who we love and always will! Happy birthday![8]
Today is your special day and I'm sending you hugs and kisses all the way from [state/country]! I hope you feel all the love today because you deserve it. Happy birthday to the most wonderful woman I know! I love you![3]
Happy birthday, great-grandma! We are so lucky to have you in our lives and blessed to have you on this Earth for [age] whole years. You've created magic in those years, and we love you so much for all that you do and all that you are.[3]
Today is the day to celebrate you! Sending wishes for your special day to be as beautiful as you are. I love you, great-grandma![9]
Happy birthday, great-grandma! Your love is a treasure. There's just something about you that brightens up days and warms everybody's heart. You have a way of making people feel good. It's what makes you a light in the lives of so many of us and just one of the reasons you deserve a lovely birthday![4]
Our dear great-grandma, we truly hope that you see you're more precious than words can describe. You're the heart of our family! We are blessed when you are beside us and warmed by the glow of your smile. We're lucky to share in your wisdom when we sit and chat for a while. You've grown to be [age], and we want you to know that it's true: we will love you forever and ever. There's no one more precious than you! Happy birthday![10]
There are good grandmothers, nice grandmothers, tall grandmothers, short grandmothers, big grandmothers, small grandmothers… and a few GREAT grandmothers. Happy birthday, great-grandma! You're the best![11]
Thank you for all the love you've shown me throughout my life. You have always been a pillar of strength and resilience; I'm thankful to be part of your family. I hope [age] brings you many joys![3]
Happy [age] birthday, great-grandma! We hope you find many moments of peace and joy in the year ahead. You are in our thoughts and hearts every day. We love and miss you very much![3]
How to Create a Great Birthday Message for Your Great-Grandma
A great-grandma's birthday is special, and your birthday message should be full of heart.
Keep the following tips in mind when crafting your message:
Use her nickname. While our list uses "great-grandma," some families have other names for great-grandparents, such as "Grams," "Grammy," or "GG." Whatever your nickname for her, use it in your message, so she'll know you're genuinely thinking about her on her special day.
Decide whether to include a direct reference to her age. Some people are more sensitive about age than others. If your great-grandma prides herself on aging gracefully and sees her years of life as a point of pride, you can mention her age in your message.
Let her know how important she is to you and the whole family. Even if your great-grandma lives far away or you don't see her often, she likely plays a vital role in your family. Use her birthday to remind her of how much she's appreciated. Tell her how she's inspired and supported you throughout your life.
Consider your great-grandma's personality. Is she a reserved and elegant woman, or is she one to crack jokes? Your birthday message should suit her style. Go for something classic and formal if she's very traditional, but have fun with it if she's known for her enduring sense of humor!
Put your memories down on paper. Referring to specific events or traits you love about her can make your message more personal and memorable.