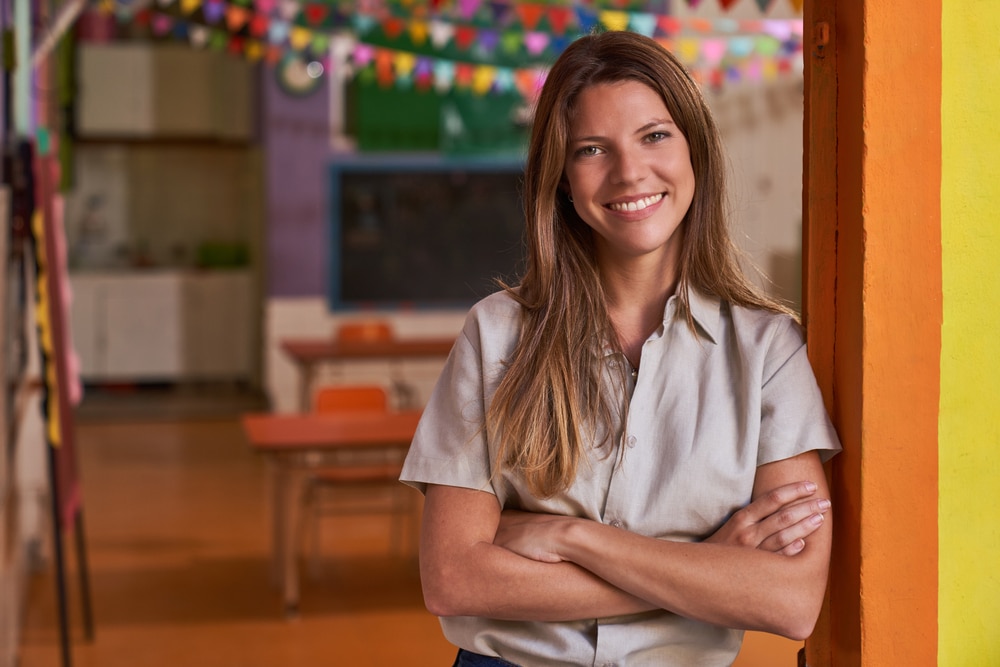 In most cases, teachers in training must complete a set number of hours in student teaching before they're eligible for certification. The regulations and number of hours required vary by state.[1][2]
During this program, the teacher-to-be is assigned to a certified teacher or "student teaching supervisor" in order to observe and learn from them. [1][2]
Often, wonderful friendships are made in the time spent working together. A teacher and student teacher share a special bond with their students, and together they experience firsthand their pupils' leaps and bounds in learning.
This can make it hard to say goodbye when your time is up as a student teacher. However, it may be comforting to write a goodbye letter to your mentor or the whole class.
We have the list of ideas to include in a student teacher's goodbye note or card, as well as a few full sample letters.
We also share some great gift ideas if you'd like to include one with your note.
To my mentor teacher: Your classroom is always such a fun place! It's been a blast working beside you and getting to know your kids. I couldn't have asked for a better place to be during my time as a student teacher.
Learning from a good teacher is an experience that can sometimes be more profound than education itself. You have given me just that. Thanks and farewell.[3]
I want to offer you my deepest heartfelt thanks for taking the time to help me in my journey to becoming a teacher. It's been a pleasure working with you.
Before I go, thank you for your patience and words of wisdom. The college books don't adequately prepare you for facing a room full of rowdy children. I understand now why student teaching is so important. I've learned as much from you as I have during my time at school. I'll miss your advice and your great sense of humor.
Your mentorship has taught me so much and has been a blessing in my life. I can never thank you enough.
Thank you for taking me in as a student teacher and showing me the ropes. My time with you has taught me so much and will stay with me forever.
I learned something new from you every day. Thank you for the wealth of knowledge and practical teaching experiences. You're a terrific mentor and teacher. Your students are lucky to have you!
I can honestly say I loved working as a student teacher with you. I'll miss the laughs we shared and having lunch with you every day. If only I could work as your co-teacher in the future.
There's a reason the kids love you so much! It's been such an honor and a joy to have you as my mentor teacher. I'm looking forward to becoming a great teacher like you someday, but I'm sad our time together is at an end.
Seeing how much you love to teach has given me a lot to look forward to. You're a major part of what I've learned during my time in training. Thank you so much for everything.
Someday, when I'm guiding a new student teacher, I'll think of you and all our crazy adventures. It's been a pleasure working with you. I'll never forget it.
I feel so lucky to have been trained by a true teaching icon. Thanks for all the good times! Farewell!
Thank you for the knowledge you have imparted to me. Your passion for success has no end. Thank you for always being there for me; I will miss your kind words and encouragement.[4]
[Mentor teacher's name], you've made my time as a student teacher a delight! I can't believe my time's up already. It feels like I just got here. Thanks again for everything. I sure will miss you and your kids. I'll drop in to say hi the first chance I get.
You've been such a great mentor and friend. I can't believe I got so lucky! I'll never forget the fun times we had together or the kiddos you shared with me. I am truly sad to be saying goodbye.
I hope I can be half the teacher you are someday. You're not only a teacher but a nurse, a friend, a counselor, a mediator, a leader, and a role model. I couldn't leave without first letting you know how much I appreciate our time together. To a first-rate mentor and wonderful friend, goodbye.
You've made my time as a student teacher such a joy! I'm thankful you were my mentor teacher, and promise to keep in touch.
Farewell, and thank you for everything. It feels like my time as your student teacher flew by. Because of you, I enjoyed every minute of it.
Sample Goodbye Letters
If you're looking for something a bit longer, we've got you covered. Below, you'll find sample letters you can use or modify to fit your needs.
Sample 1
Dear [teacher's name],
I feel so fortunate to have spent the last [number of weeks/months] in your classroom. I've learned tremendously from you and your students. I'll treasure these experiences for years to come.
My favorite part of being your student teacher was [insert favorite memories/activities here].
It's no wonder the children love you so much. You make learning fun and interactive. It always impressed me when [insert some of your mentor's awesome skills here].
I'll miss sharing a classroom with you and your kiddos. Thanks again for everything.
Sincerely,
[Your name here]
Sample 2
Dear [teacher's name],
I am writing this letter to thank you for mentoring me and taking me on as a student teacher. Thank you so much for providing me with this wonderful opportunity. It was truly a great experience for me. I have learned such a great deal about teaching during my time with you.
You are an outstanding teacher. The students love you for being so innovative with your teaching styles. I can't thank you enough for giving me your valuable time and guidance. This experience has made me quite confident about engaging with students in the best possible ways.
Thank you for everything!
Yours Sincerely,
[Your name here][5]
Sample 3
Dear [teacher's name],
I can't believe my time with you is up already. I couldn't leave without first thanking you for your superb guidance. The memories and knowledge I've gained during my time as a student teacher in your classroom will last a lifetime.
I'll never forget your wild, wacky, wonderful students. Nothing in college prepares you for that! I'm so glad I was able to face my first class with you. It's amazing the way you make lessons something to look forward to. I only hope I can do the same someday.
While I look forward to the next exciting chapter of my life, I'm sad to be closing this one. What I'll miss most about working with you is [insert things you'll miss here].
Thanks again. Best wishes to you and your awesome kiddos.
Sincerely,
[Your name here]
Sample 4
Dear [teacher's name],
Thank you for opening your classroom to me and happily sharing it. Times like these, which are some of the toughest of times, are especially stressful for teachers. Figuring out technology, making sure you're reaching students at home, taking care of your own children who are students.
On top of it all, you agreed to take me on. Thank you for letting me follow you around all day, for sharing your lesson plans, for inviting me to every meeting, and for always being willing to give positive and constructive feedback.
I am, without a doubt, the luckiest student teacher to have had the privilege of working with you.
Thank you for pushing me to be the best I can be. Thank you for believing in me. Most importantly, thank you for helping me bloom.
Thank you,
Your Student Teacher[6]
Sample 5
Dear [teacher's name],
Student teaching is a learning experience, an opportunity to discover your own teaching style and see how certain strategies work…
Thank you for letting me teach and come to love each and every one of your students. Each one of them has taught me something different.
They are the funniest, most loving, most intelligent, genuine group of students. I am lucky to call them my first class.
The memories I have made here will forever be in my heart.[6]
Sincerely,
[Your name here]
Gift Ideas From a Departing Student Teacher to a Mentoring Teacher
You may want to include a gift with your goodbye letter to thank your mentor teacher for all they've taught you.
Teachers often provide their own classroom supplies, so contributing some essentials for their classroom will be very useful to them, as well as providing a reminder of your time with the class.
You can also choose something more self-care oriented to give your hard-working mentor a break from the stresses of the classroom.
Here are some ideas for presents any teacher would love to receive!
Bulletin board cutouts
Stickers
Cute magnets
Hand sanitizer or lotion
Their favorite book
Any classroom supply that's running low
Teacher-themed tote bag
Mini tool set
Craft supplies