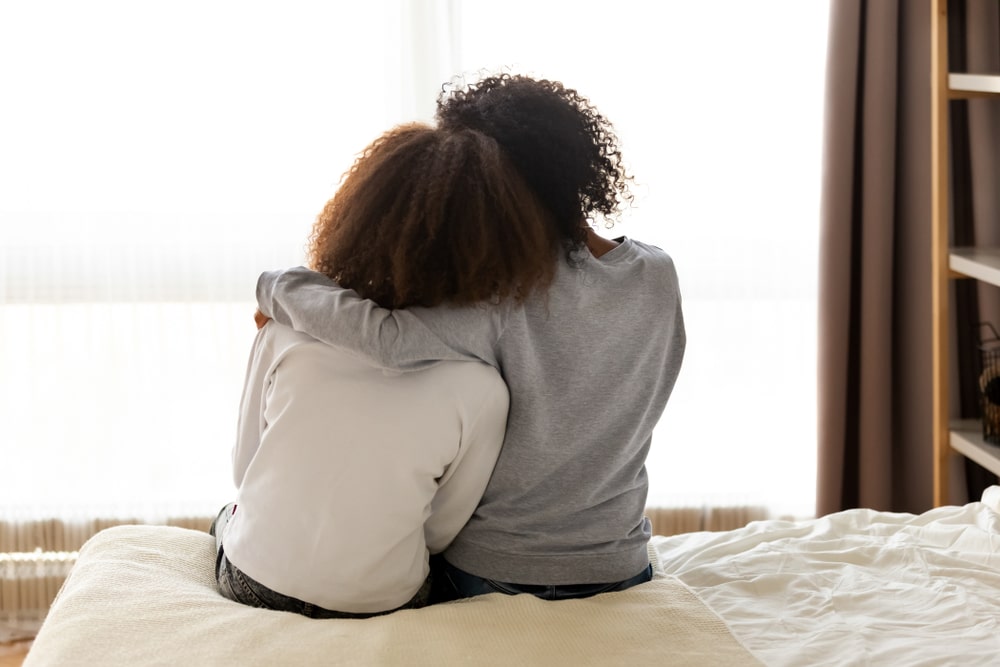 The strongest relationships made in life are most often within families.
The bond between siblings can be a particularly powerful and complicated one. They experience and help each other through the hardest points in their childhood.[1]
They're also often the ones with whom life's longest relationships are shared.[2]
If you notice yours is struggling, be sure to reach out and offer some encouragement.
To help, we provide the list of encouraging words you can share with a sister. We also offer a few tips for creating your own message.
Just keep moving forward and keep your eyes on the light at the end of the tunnel. Take it one day at a time, one foot in front of the other, until you reach the end.
You've got this, sis! Keep believing in yourself, and you will conquer the Goliath of your life.
When people try to break you down, fight even harder to prove them wrong.[3]
Through thick and thin — we're best friends and siblings until the end. Never lose hope, because you're never alone.
Words that describe you: my sister, my confidant, and my best friend.[4]
No matter what life brings, I've got your back always. I love you.
I am so proud to call you sister. I could not ask for a better friend, for a better encourager; you have made a positive difference in my life.[4]
Remember, God doesn't make mistakes. He gave you to me for a sister, after all.
"When sisters stand shoulder to shoulder, who stands a chance against us?" -Pam Brown[5]
Hey, sis. Chin up, princess, or the crown slips.[6]
My sister — you've always handled rough times with dignity and wondrous grace. You're such an inspiration to me and a terrific role model to all the young women in our family. But remember, it's also okay to ask for help from those who love you most.
To my sister, you are my best friend, my human diary, and my other half. You mean the world to me, and I love you.[5]
Sister, you are like my guardian angel, with a love that always glows. You are one of the greatest gifts my heart will ever know.[7]
Hey, big sis! I've always admired you most in my life. You've been there for me since day one. I just want you to know I'm here for you too.
Side by side or miles apart, we are sisters connected by heart.[8] I'm here for you, whenever and whatever you need.
Don't ever stop believing in yourself because you are the source of encouragement for many people around you. Dear sister, you can move mountains with your pretty smile.[9]
You're such a blessing and a bright light in my life. Don't let anything dim your glow, sis.
Sister, you're the strongest woman I know. Hold your head up high, and together we'll face this without fear as we've always done.
You're worth more to me than all the gold in the world, sister. You're priceless and wonderful, a true and precious treasure in my life.
You're capable of achieving anything you put your mind to… You will never lose. You either win or learn. Just go forth and aim for the skies. I will always be right here standing behind you.[10]
I am forever grateful to have the best and the bravest warrior… as my sister.[11]
Sister, whatever you're going through, it will pass. Look back on all the battles you've won in life. This one, too, will become a victory.
My arms are always open and ready for a great big sister hug. Call any time you need me, and I'll be there in a heartbeat.
How to Write Your Own Encouraging Message for Your Sister
Still struggling with what to say to your sister? It can be challenging to find the perfect message for your situation, so writing something personal might be a better option.
Here are some helpful suggestions for creating your own encouraging message.
Avoid sounding judgmental. No matter what your sister is dealing with, leave your judgment out of it. Whatever good you hope to achieve will be undone by the negative feelings judgment brings. Use your message to show your support and give her hope for the future.
Offer praise. Reminding your sister what she's gotten through or accomplished is a great way to give encouragement. If she feels like she's already conquered the world, she'll know she can conquer her current challenges.
Let her know you're there for her. Sometimes simply knowing you're not alone is enough to get through life's challenges. Make sure your sister knows you won't let her down. Whether she's stressed about upcoming exams and could use some ready-made meals for her all-day study sessions, or is a single parent and needs occasional help with pick-ups from school, be specific about the ways you can support her.
Write with unconditional love. No matter how you decide to encourage your sister, do it with love. This is the best way to lift up someone else.