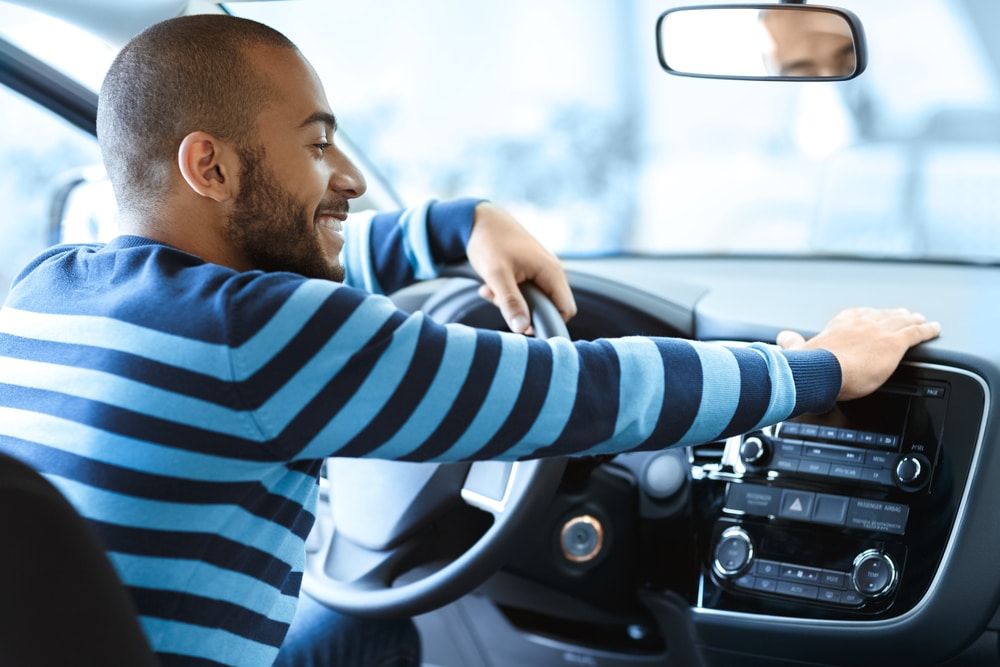 Buying a new car is a significant event in a person's life.
They have to save up a down payment, figure out financing (if they need it), shop around for the features they want, then hit the dealership for a test drive if they want to buy it in person.[1]
Even with today's options for buying a car online, it's a big deal to bring home a new vehicle!
When the process is finally over, people are generally excited and filled with newfound freedom.[2]
If you know someone who's recently taken the leap, they'll likely be thrilled to hear that you're excited for them and to share all the highlights of their new car.
We've provided the list of over 20 heartfelt and lighthearted ways to tell someone congratulations on the new car, as well as a few gift ideas for such an occasion.
Wow — high "drive" on the new car!
a play on "high five"
I wanted to take a minute to congratulate you on purchasing your first car. I know you've been saving up and looking forward to this day for a long time.
You do know we're all going to be asking you for rides now, right? Congrats on the new car![3]
I'm so jealous of your new car but also truly happy for you. Congratulations!
Congratulations on getting your first car. Here's wishing you happy and safe driving in your new car as you travel down the road of life.[4]
Congratulations on your shiny new car! Don't go too fast![3]
Here's to you and your new car and to all the grand adventures you'll share.
I know you worked hard and went through a lot to get here, but all's wheel that ends wheel, right? Congrats! You've got one sweet ride!
a play on "all's well that ends well"
Whoever said that money can't buy happiness just never bought the right car.[5] Congrats on yours!
Congratulations on your awesome new car. Hope you hit the road "fuel" throttle and enjoy every minute of it.
a play on "full throttle"
Here's hoping you make lots of wonderful new memories in your new car. Congrats![3]
Hey, congrats on the new car! So — road trip?
Congratulations on the new ride! Chances "car" you'll have some amazing adventures in it.
a play on "chances are"
Gears to you on your brand-new car.
a play on "here's to you"
Congratulations on your new car! It's a purchase worth celebrating.[4]
I had to do a double "brake" when I saw your new car. That's one super sweet ride, my friend. Congratulations!
a play on "double take"
I just heard about your new car! I'm glad you decided to go for it. Congrats!
Congratulations on buying a new car! I love the pictures. I can't wait to hear about your escapades and hope you make only the best of memories.
Hope you have a gas in your new ride. I'm so happy for you.
A new car? You must be tickled pink. I am green with envy.[4] Congratulations!
Congratulations on purchasing a new car! I'm head over "wheels" in love with the color.
a play on "head over heels"
Gift Ideas for a New Car Owner
If you want to make someone's day even better, consider giving them a gift along with your congratulatory message.
Here are a few ideas tailored to someone who's just bought a car, ranging from small, inexpensive options to more elaborate gifts for a close friend:
Air freshener
Keychain that fits their personality
Tire pressure checker
Windshield scraper (if they live in a place with cold, icy winters)
Armor All interior wipes
Can of Fix-a-Flat
Driving gloves
Emergency blanket to keep in the trunk
Pet car seat
Trunk organizer
Premium floor mats
Polarized sunglasses
Towing hitch (only for vehicles that may be used for towing)
Bike rack
Wireless charger mount for their smartphone
Seat covers
Emergency kit
Jump starter kit
Detailing kit
Cordless handheld vacuum
Automotive tool kit