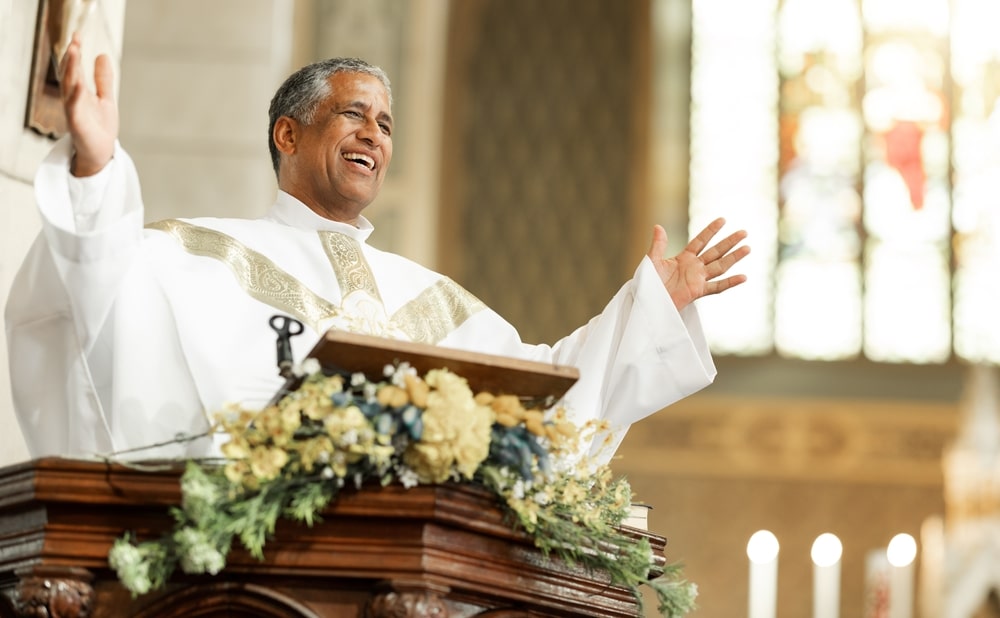 "In every thing give thanks: for this is the will of God in Christ Jesus concerning you." -Thessalonians 5:18
One way pastors, ministers, bishops, etc., can practice what they preach and set an example for others is by thanking their congregation for worshipping with them.
Saying thank you gives others a feeling of happiness and motivation to keep up the good work.
It helps them to feel appreciated, which may encourage members of the congregation to keep coming back and build a lasting relationship with the community.[1]
We've compiled the list of unique ways church leaders can say, "Thank you for worshipping with us today," as well as a few ideas for how to show appreciation.
I'm so glad to have you here for worship today. There's one who's even more thankful than I am, though, and that's our loving God.
I pray that you've been uplifted on this day and that you might feel my gratitude for having you here with me.
Thank you for joining us this Sabbath Day. It really brightens my morning to see all your shining faces.
When I think of being thankful, it's impossible not to think of all of you. This church couldn't run without its congregation. I challenge each of you to look for all the things you have to be thankful for this week.
I am so thankful that we're all part of God's family and that you've come to share this day with me.
I would like to express my gratitude, for this has been a wonderful day of fellowship among God's sons and daughters in this congregation.
You're all such a blessing to this church and to me. I look forward to continuing to serve you and pray I can be a blessing in your lives.
It has truly been humbling to stand before you and to share God's word with you on this day. Thank you, thank you for giving me this opportunity.
"O give thanks unto the Lord, for he is good: for his mercy endureth forever." -Psalm 107:1 I give thanks to the Lord for every blessing and for putting each of you in my life.
When I prepare what to share with you during the week, I often stop and think of each and every one of you. My heart fills with so much gratitude to have you be part of this congregation.
This congregation's generosity and faithfulness are such wonderful things to behold. I'm thankful for you every single day.
This church has had good times and some really rough times. I wanted to take a moment to thank you all for staying strong and remaining faithful through it all. You're a mighty example of righteousness and sacrifice.
I'm thankful today for your listening ears and open hearts. I hope you were able to feel the same spirit I felt on this day.
It brings me so much joy to see new faces here today. I couldn't be more grateful that you've joined us for worship this Sunday.
It's amazing to see the way you take care of one another, the way you follow in the footsteps of our Savior, Jesus Christ. I am filled with gratitude and humility to stand before you and thank you all humbly for every kind act you perform.
I want you to know I thank God for this congregation every day. You're all loved and appreciated more than you'll ever know.
This congregation has inspired me constantly. Thank you for the great example you've all been to me. I only hope I can return the favor.
How to Show Thanks to Your Congregation
There are so many more ways to show gratitude than just saying "thank you."
Here are a few helpful ideas if you need a little extra inspiration:
Hold a special dinner party. People love food but don't always enjoy the hassle of cooking and cleanup. Offering them a meal to share and providing them with a fun get-together is a great way to say thank you.
Let them know they're important. It always feels good to be recognized. Make sure the members of your congregation know they're not forgotten or lost in the crowd. Greet them by name when you're not at the altar. Send birthday, congratulations, and condolences cards when they have a significant event in their lives. The little things can often mean the most when it comes to feeling appreciated and important.
Enlist help. If you want to make a large number of gifts for a certain group of volunteers or church members, you could turn it into a fun youth activity. Children love arts and crafts. Allowing them to help you make thank-you gifts is a great opportunity for a lesson on service, as well.
Pray about it. Prayer and meditation can be the best time to receive inspiration and answers to our questions. If you're really stumped and can't decide on the best way to thank a particular person or group, remember to ask God for help.