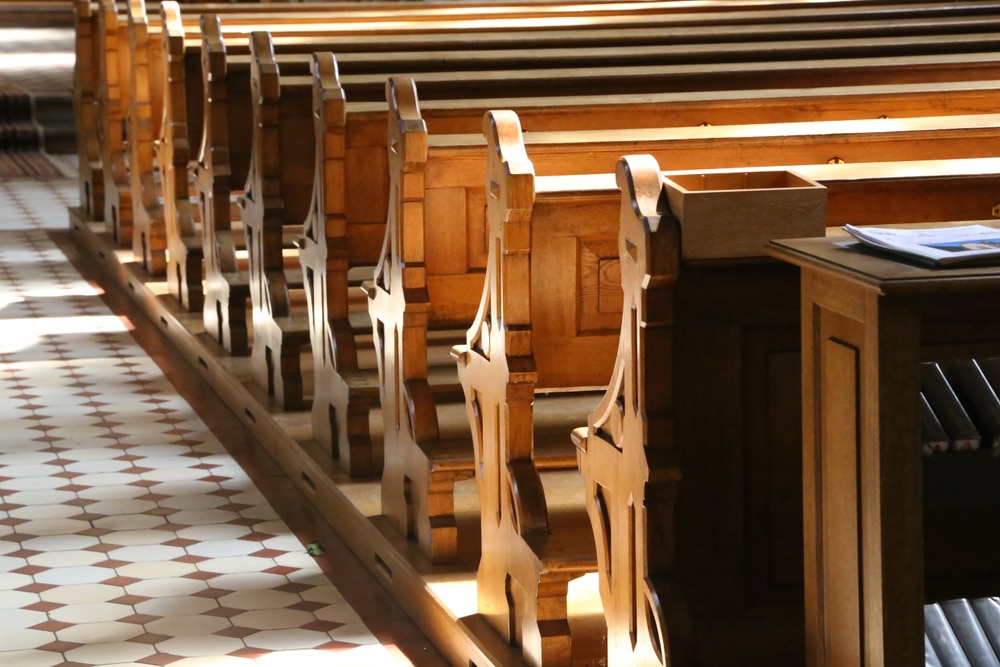 Church is a place to find unity and to be uplifted. Churchgoers have the opportunity to connect in a unique way with like-minded people, their own families, and a higher power.
It's a place to reflect and find peace from everyday care. It gives life greater meaning, makes us happier, and aids us when facing trials.[1]
If you attend or work for a church with an upcoming anniversary, one of the ways you may want to celebrate the day is with a poem. Poetry is an ideal way to share feelings and relate to others.[2]
Below, we have the list of poems for a church anniversary that could be part of a special announcement or offered to a pastor or church staff member to let them know how much the anniversary means to you.
If you prefer to create your own message to share, we also provide some tips below the list to get you started.
1.
Anniversary Poem for a Pastor
In infinite wisdom,
the Lord surely knew,
that we'd need a Pastor,
as faithful as you.
A love of God's word,
and a heart for His flock,
you give of yourself,
and you stand on the rock.
-Unknown[3]
2.
Church Anniversary Poem
Celebration, praise, and worship,
honoring our Lord and Savior —
Uplifted, consoled, forgiven, and protected,
remembering as we celebrate to give thanks —
Chronicling another anniversary as a church community,
held together as a congregation in the palm of His hand.
And today, as we celebrate our church's anniversary,
near to us we feel His presence.
Never forsaken or forgotten —
in His light we radiate.
Victoriously we raise our voices,
echoing again our thanks for blessings received,
recollecting triumphs and tribulations in the year gone by.
Steadfast and constant we turn to the year ahead,
awed and buoyed by his radiating love.
Reborn and renewed —
yesterdays remembered and tomorrows praised.
-Unknown[4]
3.
Hymn for a Church Anniversary
Eternal One, thou living God,
whom changing years unchanged reveal,
with thee their way our fathers trod;
the hand they held, in ours we feel!
The same our trust, the same our need,
in sorrow's stress, in duty's hour;
we keep their faith, if not their creed,
that faith the fount of all our power!
We bless thee for the growing light,
the advancing thought, the widening view,
the larger freedom, clearer sight,
which from the old unfolds the new.
With wider view, come loftier goal!
With fuller light, more good to see!
With freedom, truer self-control,
with knowledge, deeper reverence be!
Anew we pledge ourselves to thee,
to follow where the truth shall lead.
That truth alone can make us free;
who goes with God is safe indeed!
-Samuel Longfellow[5]
4.
Paster Blessing Prayer
In prayer today, Lord, we uplift. Thank you for your special gift,
a pastor for our flock to feed, to plant your word as holy seed.
Lord, you're a good shepherd over all. Thank you for your special call.
On this anniversary day, bless our shepherd in every way.
Grant our pastor a shepherd's heart. Help each of us to do our part,
So we can be worthy, your chosen flock, firmly founded on Christ the rock.
Grant our pastor many days. Bless him, Lord, in many ways.
May his work be ever fruitful, for which we, Lord, are most grateful.
May our pastor be faithful, Lord, to receive from you, eternal reward.
Safe in Heaven, safe with you, may all your flock rejoice anew.
Amen.
-Paul Berchtold[3]
5.
Come Gather All
Come gather all, from great to least.
Come celebrate this special feast.
This is the day, by God's own choice,
our church was born. Let us rejoice!
May God be praised! May God be blessed!
May He find here His place of rest.
We honor those who built with care,
His throne on earth, this house of prayer.
May all who come, find truth and light,
receive new hope of a future bright.
God, fill us with abundant grace.
May angels guard this holy place.
We thank you, Lord, for what you've done,
here in this place through your dear Son.
Abide with us, your Spirit show,
as rivers may your blessings flow.
-Paul Berchtold[6]
6.
We Thank Thee, Lord
Another year has come and gone.
To you, dear Lord, we sing this song.
We thank thee, Lord, for every day,
and for this church, we hope and pray,
you'll keep watch over both day and night.
We thank thee for thy love and light.
Please bless us, Lord, in the coming year.
Watch over us and keep us near.
We thank thee for all that thou hast done,
our Lord and Savior, the holy One.
7.
The Lord is With us Today
As we congregate here today,
we can all remember where we have come from.
Our good Lord has been good to us,
His grace has been sufficient to us.
Many people have come from far and wide,
to… witness this occasion.
To some it is their first time,
to others it is a repeated expereince.
The question is what is your experience?
Have you grown in the Lord,
when each anniversary comes,
what does it remind you?
We want to thank God for the mercies.
He is a faithful God,
who never leaves us nor forsakes.
As we start another chapter we know our Lord is with us.
-Unknown[7]
How to Write Your Own Church Anniversary Message
You may also want to share a few words in addition to a poem, depending on the receiver of the message.
Here are some ideas to help you find inspiration and create your own one-of-a-kind church anniversary message.
Set the tone based on who's receiving the message. If you're creating a special church announcement or flyer, you'll probably want to keep it more general. If it's for the pastor or a few other select individuals, it's okay to write a personal message which might include private experiences or blessings you or your family have received through the church.
Mention sacrifices and selfless service offered by other members or church staff over the past year. Though they didn't do it for the glory, it's nice to be appreciated. An anniversary message is a great time to recognize others.
Give an overview of relevant events. Something else you may want to include in your message, especially one meant for the public, is interesting happenings of the last year. Has the church reached a major milestone? Was it able to offer a special hand to a charity or disaster relief? These are some things that fit in perfectly as part of a church anniversary message.
Make gratitude a focus. It's always a good idea to give thanks. It takes a lot of helping hands to keep the church going, after all, and there's no end to what God has done for us.