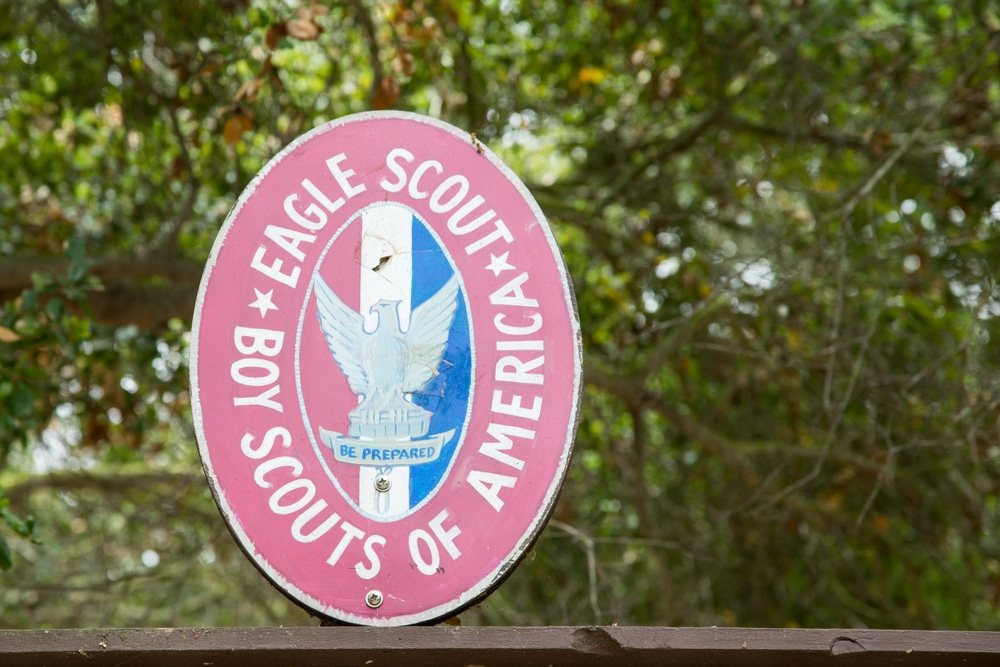 Boy scouting began in Great Britain in 1908. Its purpose was to teach boys aged 11 to 15 to become good citizens and to develop outdoor skills.[1]
Today, the Boy Scouts of America continues this tradition for millions of boys ranging from five years of age to 21 with about 800,000 volunteers.[2]
The highest rank and honor a boy scout can achieve is becoming an Eagle Scout. It requires a scout to earn 21 badges, serve in a leadership position for at least six months, organize and oversee a special service project, and pass a board of review, among other things.[3]
In turn, Eagle Scouts can gain experience and other benefits from their rank. A study of Eagle Scouts, Scouts that didn't achieve the Eagle rank, and non-Scouts found higher levels of planning, preparedness, community engagement, and commitment to personal and professional goals among Eagle Scouts.[4]
Research even suggests Eagle Scouts are more likely to grow into men who serve in leadership positions, as well as having closer relationships with family and friends.[4]
If you know someone who's recently become an Eagle Scout, be sure to let them know how proud you are of their accomplishment.
To help, we provide the list of quick ways to offer congratulations to a new Eagle Scout, along with a few templates for writing them a letter.
You'll also find some great tips for choosing one or for creating your own special message below the list.
Thank you for the great example you've set for me and for the youth of America in your achievement. I have no doubt you'll go far in life. Best wishes and congratulations.
Congratulations on your achievement of this highest honor. May this mark of dedication, perseverance, and excellence inspire you to achieve even greater things, overcoming every life obstacle with strength and rising tall to shine like the stars. So proud of you![5]
Congratulations on your achievement of highest honor. The character traits that have been recognized in you are the very same traits that will carry you throughout life and help you change the world around you. Congratulations on the highest honor of becoming an Eagle Scout![6]
It feels like just yesterday, you set out on this grand Scouting journey. You've come out of it as a dedicated, resourceful, unstoppable, and extraordinary young man. Sending you all my congratulations and best wishes on your continuing journey through life.
You did it! You're an Eagle Scout! It's been amazing to watch you grow and work hard throughout the years. Wishing you all the best.
You had a dream. You embraced it. You worked it. You lived it. And now, strengthened by the wings of the eagle, you achieved it. Congratulations Eagle Scout![7]
Congratulations on becoming an Eagle Scout! Your dedication and hard work have enabled you to accomplish your goal and attain the rank of Eagle Scout. Now, as you soar to new heights, remember the Boy Scout Oath. Let it guide you, like a beacon in the night, on life's journey. We're so proud of you.[8]
You've always impressed and surprised us. Oh, how we love and adore you. Congratulations on achieving the remarkable honor of becoming an Eagle Scout. Love, Your [Grandparents/Parents/Aunt and Uncle]
You had a dream and you made it a reality. If that's not inspirational, I don't know what is. Thank you for your hard work and for setting such a great example for the rest of our troop. It's been an honor to be your leader. You've taught me so much. Congratulations, Eagle Scout! Sincerely, Your Troop Leader
You are now part of an elite group, defined by dedication and hard work. You have accomplished something very special, and will carry the mantle for the rest of your life. Congratulations to a new Eagle Scout![9]
Dearest Son, Great job on the tremendous accomplishment of becoming an Eagle Scout! You're finally ready to spread your wings and soar above the rest. Congratulations! We'll always be here for you.
Becoming an Eagle Scout is one of the finest achievements any young man can accomplish. With great admiration, we congratulate you![10]
Congratulations on becoming an Eagle Scout. Continue to soar like an eagle throughout your life.
I can only imagine how thrilled you are for your years of hard work to pay off at last. I couldn't be prouder.
Great job on becoming an Eagle Scout. We're so proud, and we can't wait to see what's next for you in life!
Congratulations! I know you must be proud and happy to attain the rank of Eagle Scout. May the high goals and ideals which led to this special honor continue to inspire you in the years ahead.[11]
Let me add my voice to the chorus of others who are singing your praises as you spread your wings as America's newest Eagle Scout. Congratulations to you!…[12]
Way to go, Eagle Scout bro! It's been awesome to watch you learn and grow from the sidelines. I'm proud of you.
Template 1
Dear [scout's name],
I write to congratulate you on being awarded Scouting's highest award — that of Eagle Scout.
It is clear that you are held in high esteem by your colleagues and leaders, and your achievement across a broad range of activities is impressive.
Today's world is one where the values of comradeship, community spirit, and selfless giving are less celebrated than once they were, which is why organizations such as the Scouting movement are so important.
I salute your achievement and wish you every success in the future.
Yours sincerely,
[Your name here][13]
Template 2
Dear [scout's name],
Congratulations on attaining the rank of Eagle Scout. I am sure your journey has been one of many challenges, opportunities, and learning. You are joining a rare group of individuals who have distinguished themselves from all others by demonstrating perseverance, leadership, and commitment. You have reached Scouting's pinnacle by following the Scout Oath and Law in your daily life.
I want to remind you that the bar has now been raised for your expectations. I encourage you to continue to live by the Scout Oath and Law. They will guide you faithfully. Carry yourself in a manner that would make your Scoutmaster proud. Continue your involvement in the BSA and be a good ambassador of the program.
By earning the rank of Eagle Scout, you have opened many opportunities for the future. Hold your head high, knowing that you are now soaring with other leaders throughout the country who have also followed the trail to Eagle. Always remember that "Once an Eagle, Always an Eagle." You never "were" an Eagle Scout, but you will always "be" an Eagle Scout.
I wish you the best down Scouting's Trail. I am confident you will find continued success in all that you do.
[Your name here][14]
Template 3
Dear [scout's name],
I was thrilled to hear you've earned the rank of Eagle Scout! This is wonderful news. I can't tell you how proud I am to have one in the family. This is an honor so few aspire to reach.
Your hard work and perseverance have always been an inspiration to me. Even when you were little, I knew you would go on to achieve great things. You never cease to amaze me.
Keep up the good work, and I know you will accomplish whatever you set out to do. Remember the things you've learned in Scouting. Set goals and chase your dreams.
Congratulations from your [grandma/grandpa/aunt/uncle, etc.].
With love,
[Your name/family relationship here]
Template 4
Dear [scout's name],
It gives me great pleasure to congratulate you on achieving the rank of Eagle Scout. You can take pride in having earned the highest award in Scouting and having gained the skills and knowledge that will equip you to meet the opportunities ahead.
Becoming an Eagle Scout is an admirable accomplishment, and I applaud your extraordinary commitment to the principles of the Boy Scouts of America. I hope that you are surrounded by the warmth of family and friends as you celebrate this milestone.
With warm regards and best wishes for your continuing success…
[Your name here][15]
Template 5
Dear [scout's name],
Congratulations on receiving the great honor and momentous achievement of becoming an Eagle Scout. I recognize the sacrifice and perseverance you've given in this effort. There are so few individuals who ever accomplish the highest rank in scouting. The hard work and dedication required show true character.
I couldn't be more proud. Of all the choices life has to offer, you've taken a remarkable and respectable path that will lead you to beautiful places in your life.
Keep up the good work, and be sure to let me know what great adventure you tackle next!
Sincerely,
[Your name here]
Tips for Congratulating an Eagle Scout
If you're still struggling with what to say, we have some tips to help you choose a message or create your own.
You can also use these tips to personalize your message if you choose to use one of the options in our list above.
What's your desired tone? First, decide if you want your message to be serious, humorous, or perhaps loving. This will make it easier to choose or create your congratulations message.
Be authentic. One of the best ways to pick the right message is to make sure it's genuine. Choose or create one that sounds like something you would actually say.
Mention their best qualities. If you've watched an Eagle Scout develop desirable qualities while working toward his accomplishment, let him know what they are in your message. Using specific examples will let him know you truly care about his journey in Scouting and are proud of his achievement.
For a longer message, break it into sections. It's easier to tackle writing an important letter when you do it one section at a time. You could write a paragraph about how proud you are, one to compliment him as a person, one in reference to your experience in boy scouts (if applicable), one to share how it will serve him in the future, etc. Simply choose your topics, decide on the order, and create your perfect message.