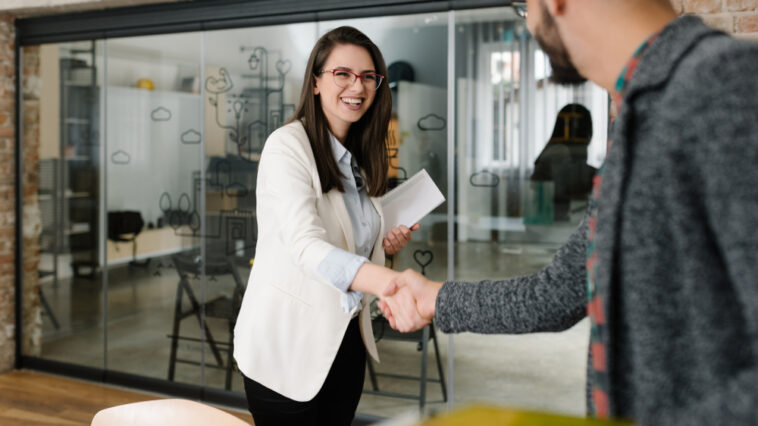 Prayer can have a calming effect and may help you regulate emotions by improving cognitive reevaluation. In other words, prayer helps you change the way you think about the things happening around you.[1]
This can be especially beneficial when you're stressed out about difficulties in life, like a challenging project or new responsibilities in the workplace.
Additionally, research suggests that those who pray to a higher power are generally more confident when making career decisions and are often more open to considering various career options.[2]
Below, we have the list of short prayers for work success, perfect for any busy employee or entrepreneur. We also share ideas to help you come up with prayers specific to your situation.
Lord, I pray that you will grant me a healthy work-life balance. Help me remember to prioritize the things that matter most and have peace amidst my professional pursuits. Amen.
Heavenly Father, guide me in my tasks today, I pray. May my work honor you and lead me to whatever successes you have in store for me. Amen.
Dearest Father in Heaven, I thank you for the success I've found in the workplace and give you all the glory for what I've done. I pray that you will continue to guide my efforts and lead me to continued success. Amen.
God, help me to be able to adapt to whatever changes come in the workplace. Help me to embrace new circumstances and to learn from these experiences so that I may find success in all things. In Jesus' name, amen.
Dear God, I want to thank you for my job and for all the opportunities I've been blessed to have. I pray that I'll be able to make the most of them and that I'll find joy and success in every task. Amen.
Lord, grant me the confidence to face whatever challenges may arise and the courage to take on new responsibilities. Strengthen my belief in myself and my talents. For this, I pray, amen.
Heavenly Father, please promote a spirit of teamwork and cooperation in my heart and in the workplace. Give me the wisdom and patience to work harmoniously with those around me so that we may achieve success. Amen.
Father in Heaven, I dedicate my work efforts and my life to you. Please guide me in knowing what I should do to be successful and glorify your name. Amen.
Lord, I pray that you will bless my work. May it be fruitful and successful. I also ask that you give me the strength to overcome challenges and the wisdom to know what thou would have me do. Amen.
Dear Lord, please bless my efforts that I may be productive and efficient at work. Help me to manage my time and accomplish the work given to me to the best of my abilities. I pray for these things in the name of your beloved son, amen.
God, I pray that you will inspire me with creativity and innovation at work. Please, help me to find solutions and offer positive contributions to my team and our assignments. Amen.
Heavenly Father, I pray for success in completing the tasks assigned to me today. Help me to perform them to the best of my ability and to contribute to the success of my team. Amen.
Lord, thank you for the many gifts and talents you've given me. Please, help me to focus on accomplishing the goals you've set forth for me to perform during my time in this position and lead me in the way you would have me to go. Amen.[3]
Dear God, I come before you to ask for your guidance at work. I pray that you will help me to succeed and to be a light to my coworkers. Amen.
May you bless my work today, Lord. Please help me to be productive, successful, and a force for good in the lives of those with whom I work. Amen.
Lord, may you open the doors of opportunity in my career. Lead me, I pray, to those who can help me to progress and to where my skills may be best showcased. Amen.
Heavenly Father, give me the stamina to accomplish whatever tasks are required of me and to do so wholeheartedly. Help me to stay focused and on the right path in pursuing my work goals. In Jesus' name, amen.
Father, help me to learn what you want me to know, and give me patience as you prepare me for the future. Help me to do my best and to remain positive in all my endeavors. Amen.[3]
God, grant me the clarity and wisdom I need at work. I pray for your guidance in making decisions, choosing the best actions to achieve success, and making a positive impact. Amen.
Lord, please give me the strength and reassurance I need to face whatever challenges may come at work. I pray that you will guide me on the path to success and never leave my side. Amen.
Dear God, I pray that I may be successful at work today. Please help me stay positive in all that I do. Amen.
Heavenly Father, I pray that my work endeavors will bring positive results. I pray that you will guide my efforts and help me to be successful in my professional life. In the name of Jesus Christ, amen.
God, I pray that you may give me a learning spirit so that I may increase my knowledge and be successful in the workplace. Please, watch over me and help me to do thy will. Amen.
How to Create Your Own Short Prayer for Work Success
Creating a prayer can involve focusing on your goals, expressing gratitude for the things you've accomplished, and asking for the things you need most.
Feel free to adapt the prayers on our list to fit your needs or use these ideas to create your own short prayer:
Ask for guidance and wisdom. If you're facing a difficult decision or you could simply use guidance throughout the day, be sure to include this in your prayer. Something as simple as requesting divine assistance in making the right decisions could be just what you need.
Pray for strength and patience. Consider asking for the strength and resilience to overcome whatever obstacles come your way. It may also be helpful to ask for patience in facing difficult tasks and colleagues.
Pray for protection. You may want to pray for safety and protection from harm, negativity, or any other obstacles that could get in the way of your success in your career. You might also consider asking for divine intervention to aid your efforts and open doors to new opportunities.