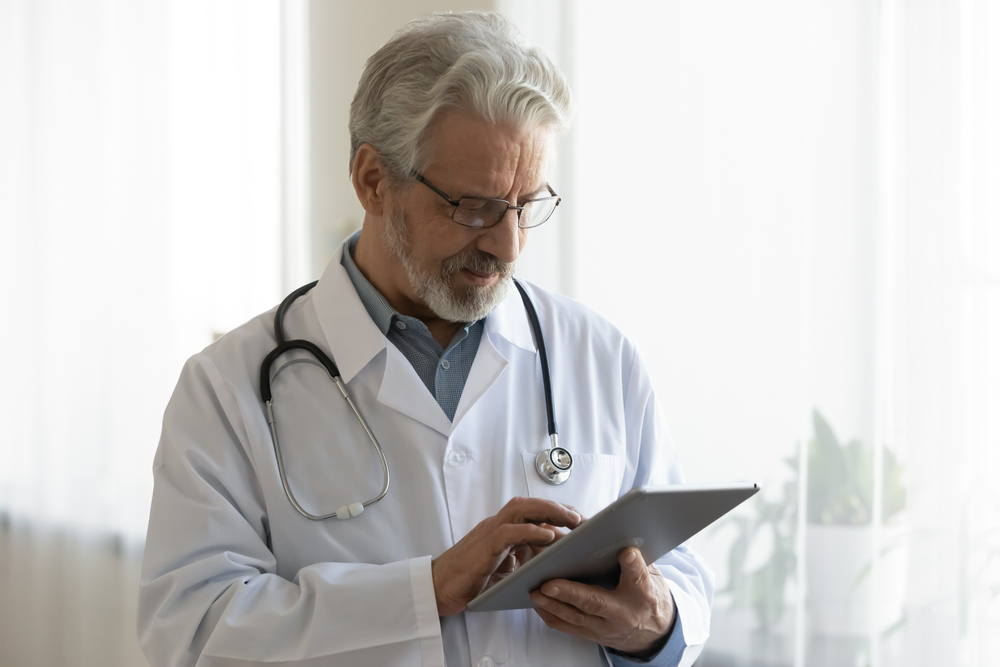 We rely on doctors to get us through some of the hardest and scariest times of our lives. Having a doctor you trust makes all the difference.
Patients are more likely to seek medical help when they have a provider with whom they're comfortable. Research even suggests that this can lead to better health outcomes.[1]
Needless to say, it's hard to lose a beloved doctor to retirement. Offering them a thank you note, letting them know how much you appreciate what they've done for you through the years, is a great way to say goodbye.
We've provided the list of ways a patient or coworker might say thank you to a retiring doctor below, plus a few tips for how to write your own!
You've been there for me in some of the most trying times of my life. Words can't express how much it's meant to me. Wishing you all the best in the next adventure of your life.
I wouldn't be here today without you, Doc. Thanks for being my own personal hero.
Thanks for all the kind words, healing care, and gut-busting laughs you've given me through the years. I'd rather not see you go, but I hope you enjoy your retirement!
Thanks for teaching me the difference between fact and faith. Fact is when any ordinary doctor diagnoses an illness in a report. Faith is when good doctors like you give their patients the strength to recover.[2]
I'm thankful for your extraordinary care in delivering my children and several of my grandchildren. The world's losing an exceptional OB-GYN today. Good luck in all your retirement endeavors.
I want to take a moment to thank you for everything you've done for my family and me through the years. I don't know what we'll do without you.
The nightmare of my illness slowly became a dream of recovery, all thanks to a wonderful doctor who changed my destiny. Thanks, Doc, and have a happy retirement.[2]
Thanks for taking care of my every worry and fear so patiently. I'll never be able to replace you as my doctor. You will be deeply missed.
Doctor [surname], You kept me going when I didn't think it was possible. You never gave up on me, even when I wanted to give up on myself. Saying thank you doesn't feel like enough when you've done so much for me but thank you with all my heart, and good luck with retirement.
You're the only doctor I've ever trusted with my health. You've always provided my family and me with the best of care. Thank you, thank you, and best wishes on your retirement.
I'll miss you and your positive attitude around the office, but I wish you all the best in your retirement! Thank you very much for everything![3]
Doctor [surname], We sure will miss you here at the [office/hospital]. Thank you for your tireless hard work, integrity, and gentle bedside manner. You're an inspiration to us all. Here's to a top-notch doctor and all your future endeavors.
Everything you've done has been a work of "heart." Thanks for all the help in the office. You've taught me so much. Have a happy, lazy, wonderful retirement!
I thank God daily for putting you in our path and saving [name]'s life. We will never forget you, and our gratitude will never diminish.
Thank you for being a mentor, friend, and one of the hardest workers I know. Enjoy retirement![3]
Thank you for devoting your life to caring for this hospital's patients and their families. You've done so much good in the world. We're thankful for the legacy you leave behind and sad to see you go.
We wish you all the best and hope you live in the "lab" of luxury. Thanks for everything, doc. You've been a fantastic mentor to us all.
We don't have to look far for a real-life hero. We see [him/her] every time we visit the doctor! Seriously, thanks for everything you've done for my family. Best wishes for this new chapter in your life.
Thank you for being such a wonderful colleague and friend. Though I'm losing you as a coworker, I'm grateful you'll still be my friend. Happy retirement![3]
How to Write a Great Thank You Note to a Retiring Doctor
It can be hard deciding what to say to someone who's meant so much in your life, especially when words don't seem like enough.
Here are a few ideas for saying what's on your heart and creating a truly meaningful thank you note.
Mention the times when you were most grateful they were there for you. If there's a specific time in your life that you couldn't have gotten through without your doctor, mention that with a special thank you. It will mean a lot and may become a treasured note your doctor returns to when reminiscing about their career.
Mention their greatest qualities. Does your doctor have an extraordinary gift of patience or empathy? Are they always making you laugh or smile? Let them know what qualities they have that always stood out to you and how much it's meant to you through the years.
Include a family photograph. Your doctor will likely appreciate having pictures of long-term patients to look at once they've settled into retirement and are looking back at their years providing healthcare.
Congratulate them. Even though this is a sad time for you, your doctor is likely thankful for the break from their hectic lifestyle. Make sure to be positive and congratulate them on this achievement, as well as offer your best wishes.