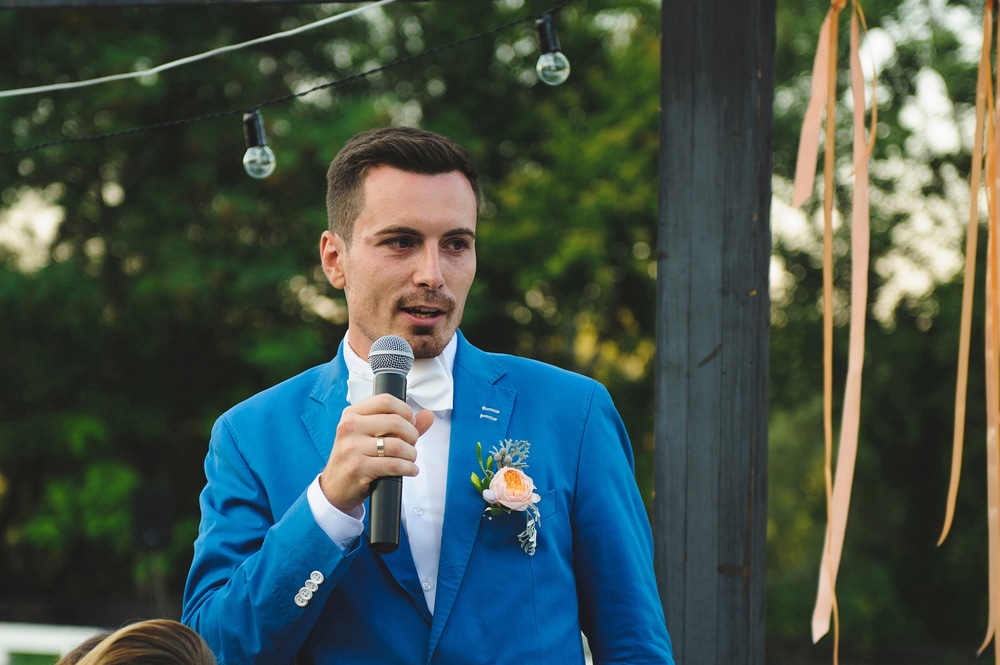 Being the best man at your brother's wedding is quite an honor — and quite a big responsibility, especially for an older brother.
The biggest job, perhaps, is giving the best man's speech at the wedding.
Your little brother has looked up to you all his life, after all, and you want to make his day more special.
The tradition of serving as best man to the groom is believed to have been around since the 1500s,[1] so you might be wondering how you're going to make your speech stand out.
Below, we provide the list of unique things to say in a best man speech to a younger brother, as well as a few speech templates.
We also offer tips for creating your own best man speech to make sure you're covered on the big day.
I'm [groom's name]'s best man and also his big brother. I think it says a lot about a man when he chooses his brother to be his best man… Mostly, of course, it says: "I have no friends."[2]
For those of you who don't know me, I'm [groom's name]'s older brother. It's great to stand up here today because, after all these years, [groom's name] has finally admitted that I am the best man.[2]
My name is [your name], [groom's name]'s older brother and best man for the day. [Groom's name] didn't choose me in the traditional way. In fact, our other brother [brother's name] and I drew straws… and just because I'm standing up here, don't think for one minute that I was the winner.[3]
[Groom's name], I am deeply proud to be your older brother, and truly honored to be your best man. In spite of our [number]-year age difference, we share a special closeness and friendship that I treasure. Maybe that's got something to do with me acting [half the number of years in age difference] years younger than my age, and you acting [half the number of years in age difference] years older. But seriously, as your big brother, I've always tried to watch over and protect you. Just as often, though, it's been the other way around.[3]
It's the job of the best man to say a few complimentary things about the groom. Well, he's handsome, intelligent, and naturally gifted at sports. Of course, none of this should come as a surprise — we do, after all, come from the same gene pool.[3]
It's such a privilege to be [groom's name]'s best man. For those of you who don't know me, I'm his big brother [your name]. [Groom's name] has always made me laugh. He cheered me up when I was down. Wedding titles aside, he's the real best man in the room.
We all know [bride's name] is a wonderful lady who deserves the perfect guy. Too bad you don't always get what you deserve.[2]
To my little brother and the beautiful bride, tonight we celebrate you. We all wish you a lifetime of happiness, love, health, success, and laughter. May you continue to find humor in the bad and appreciation for the good. May your friendship continue to grow through the years to come. Cheers![4]
I stand here today to toast my little brother and his new bride and to celebrate their new union together. All your joys will now be doubled because you can share them together. All your trials and tribulation have now been halved because you can now solve them together. In marriage, you promise to care about everything — the good things, the bad things, and the mundane. You promise each other that life will not go unwitnessed, because you will witness it with each other. Remember, you two, this is just the beginning. The best is yet to come.[4]
My kid brother [groom's name] and I share a common sense of humor. So if this speech is in any way unfunny, feel free to blame him.[5]
I never thought this day would come. My baby brother somehow managed to find someone who can put up with him, and I couldn't be happier. Here's to [groom's name] and [bride's name]. May you share a wonderful life together.
Let me just start by saying to my little brother, I love you so much, and I really hope you'll feel the same about me after you hear my speech.[6]
Seeing the happy couple walking down the aisle earlier today, I'm sure we'll all agree that the bride looked simply stunning. [My little brother] the groom, on the other hand, simply looked stunned.[5]
As I stand here today and see my little brother with his new wife, [wife's name], I can clearly see that my brother has finally won. [Wife's name] is the most outgoing, fun, and kind-hearted person. He doesn't have to roll the dice — he's a winner just by being with her.[7]
Templates for Creating a Best Man Speech
Feel free to take pieces from each template to switch around or combine and create what works best for you!
Template 1
Good morning/afternoon. I'm [your name], [groom's name]'s big brother.
It's such an honor to be his best man. We've had our ups and down, but he's the guy who's always had my back.
When we were kids [insert a story about something heroic your brother did].
I can't imagine someone more deserving of such a lovely bride. I know that wherever life takes them, [groom's name] will face it head-on and turn it into a great adventure.
Best of luck to the new bride and groom.
Template 2
As [groom's name]'s best man and big brother, I'm so happy for the newlyweds and grateful to be standing here today.
I have to say, I wasn't the least bit surprised when they told me they were getting married. I can't imagine two people more deserving and suited to each other.
[Groom's name] and [bride's name] are both [insert complimentary things they have in common]. I know they'll share a wonderful life together.
[Bride's name], I want to welcome you to the family. And [groom's name], you are one lucky man.
Here's to you both!
Template 3
Hello, everyone. I'm [groom's name]'s big brother, [your name], for those of you who don't know me.
I'd like to start by saying, wow — these two sure do make a great couple, don't they? [Pause for applause.]
Today, I have a quote to share that made me think of [groom's name] and [bride's name]:
"Love isn't perfect. It isn't a fairytale or a storybook, and it doesn't always come easy. Love is overcoming obstacles, facing challenges, fighting to be together, holding on, and never letting go. It is a short word, easy to spell, difficult to define, and impossible to live without. Love is work, but most of all, love is realizing that every hour, every minute, every second of it was worth it because you did it together."[8]
As the years go by, remember this day and why you chose each other. Embrace your happily ever after.
I truly love you both and wish you only the best.
Please join me in raising a glass to the bride and groom. Here's to a lifetime of love and happiness.
How to Write the Perfect Best Man Speech
Once you've chosen a few options from the list, you may want to add to or change things up to make it your own.
Here are some tips for personalizing or creating your own perfect best man speech.
Throw in a memory. You've known the groom his whole life, so you're bound to have some hilarious or meaningful experiences to share. Guests will enjoy your story, and the toast will be more memorable.
Wish him luck. This is a great opportunity to congratulate the newlyweds and share your best wishes. You may want to reference their future plans and reassure your brother that you have the utmost confidence in him.
Add some humor. People love to laugh! You could include a joke you and your brother have long shared or throw in a few puns. Just remember to keep it appropriate for the youngest guests.
Give yourself a structure with which to work. First, decide on what you want to include and in what order. This could be a thank you to guests or workers, a joke, a story, congratulations, family memories, etc. Write down keywords for what you want to include and organize it so that when you begin the official speech, you've got a simple structure to follow.
Practice, practice, practice. Once you've written your speech, practice on a friend or family member (besides your brother) and get some feedback. Hearing yourself say it out loud also allows you to make any changes necessary for a good flow of words.