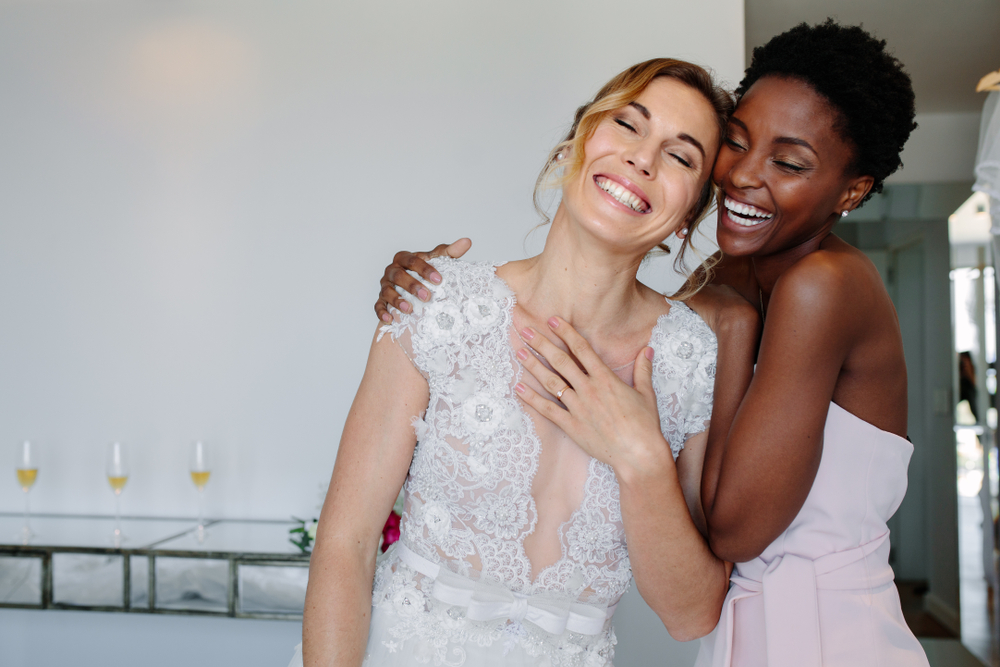 If a family member or one of your besties just got engaged, it's time to celebrate! If you received the honor of being asked to be a bridesmaid, you have some planning to do, too.
There are pre-wedding parties to arrange and decisions to be made. You get to have a beautiful dress tailored to fit you with the other bridesmaids, and you'll be up close and personal for the big day.[1]
Amid the joyful chaos of planning each occasion and loads of fun girl time, you'll probably want to offer your thanks to the bride-to-be who made it all possible.
Here, we have the list of unique "thank you for asking me to be your bridesmaid" quotes.
Below the list, you'll also find some helpful tips for creating your own message.
Getting to stand by your side as you take this next step means the world to me. I'm so honored to be your bridesmaid! So let's strike our best pose and get ready for some fun![2]
Opening your invitation to be your bridesmaid was such a joy! I can't wait to be there with you every step of the way on your journey to your wedding day.
I was so happy to find your bridesmaid proposal box outside on my doorstep! I can't wait for all the amazing times we'll share getting you ready to say "I do."
I'm honored to be your bridesmaid, your rock, and your ride-or-die. Thanks for having me join you on this crazy ride![2]
Thanks for inviting me to be a bridesmaid! Of course, if you hadn't, there would have been consequences.
I'm thrilled to be your bridesmaid! You did a phenomenal job as one of mine, and I promise to do the same for you.
It really "maid" my day when you asked me to be your bridesmaid. Thanks so much. I can't wait for the fun to begin.
Thanks for asking me to be a bridesmaid! Now buckle up, buttercup. This is going to be fun!
I'm so excited to be part of [your] "I Do" crew.[3]
The special bridesmaid proposal box left on my front porch was such a "marry" surprise. Thanks for the invite. I'm all in, my friend.
I'm so excited, I just can't "bride" it. Thanks for asking me to be your bridesmaid, girl! This pre-wedding adventure is going to be epic!
It feels like just yesterday we were playing dolls and giving each other terrible makeovers. Where have the years gone? I just wanted to thank you for our wonderful friendship and for asking me to be your bridesmaid.
I'm so happy to be your bridesmaid! I promise that your wedding will be a day to remember. Even the cake will be in "tiers."
[Future bride], We weren't sisters by birth, but we knew from the start, fate brought us together to be sisters by heart.[4] Thanks again for asking me to be your bridesmaid. Love you!
How wonderful it was to be asked to be your bridesmaid. I'm so grateful for our friendship and the trust you've put in me.
Thank you for choosing me as your bridesmaid! You've always been such a great support in my life. I can't wait to return the favor and to see you walk down the aisle. Love you, sister!
Hey, girl! I feel so honored to be one of your bridesmaids. I can't tell you how excited I am to share the journey ahead with you!
I'm so happy to be part of your bride tribe! Thanks for including me on the most important day of your life.
Congratulations on your engagement, and thanks for asking me to be your bridesmaid… I am so thankful to have been asked to stand by your side on the happiest day of your life.[2]
How to Write Your Own "Thank You" Message to the Bride
It can be hard to put your feelings into words, especially when it involves such a grand occasion.  This is a once-in-a-lifetime event for the bride, after all.
Here, we offer a few ideas to help you create your own unique and meaningful "thank you" message.
Make it personal. Feel free to include a reminder of your happiest memory with the bride. You might also include a time in the past when you daydreamed together about your future engagements and weddings. It will be a joy for the bride to read and remind her why she chose you for the job.
Let her know you won't let her down. This is a great opportunity to assure the bride you've got her back no matter what. As wonderful as planning your own wedding is, it can be overwhelming. It will feel good to be reminded that she's not doing it alone.
It's about more than just the wedding. A thank you message can be about more than one thing. In addition to thanking the bride for asking you to be her bridesmaid, thank her for being such an important part of your life and anything else for which you're grateful to her.