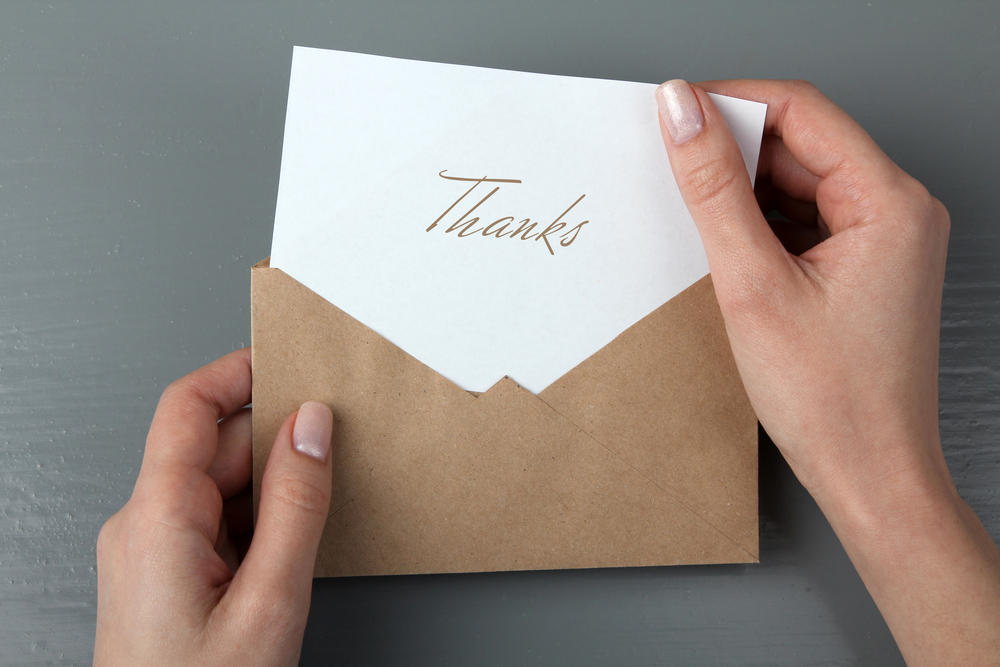 Preparing for a wedding day is one of the most exciting times of a couple's life!
Engagement parties and wedding showers come in all shapes and sizes. They can be simple gatherings of friends and family or extravagant affairs to celebrate the upcoming marriage.
They're a great chance for the uniting families to get to know each other and for the bride and groom to discuss wedding plans.[1]
The downside is that it can be hard to find the right words to thank others for engagement gifts and well wishes when you know you'll be doing it all over again soon, after the wedding.
We've come up with the list of ways to say thank you for the gift, the congratulations, or the best wishes that are unique to this special occasion.
We also provide a few ideas for creating your own message below the list!
Thank you so much for sharing in our joy at our engagement celebration. It was wonderful to see you, and we hope to celebrate with you again on our wedding day.
[Fiance's name] and I want to take the opportunity to thank you for the lovely engagement gift. What a wonderful surprise! We look forward to seeing you soon.
We truly appreciate you coming to our wedding shower. Thank you for the spirit you brought to the party and for being part of our life.
Thank you so much for attending our engagement party. It's been too long since we've seen you guys. You made our day extra special. We love you guys.[2]
We love the special engagement gift from you. Please accept our dearest thanks and be sure to join us on our wedding day.
Your congratulations and heartfelt advice regarding our engagement mean so much. Thank you for everything.
You really made us feel so special on our engagement day with your kind words and your love for us. Thank you so much.[3]
You made our wedding shower such a wonderful occasion. Thank you for being there to celebrate with us.
It is always great to be reminded of good friends like you. Thank you for the congratulations on my engagement![4]
Thanks so much for getting in touch just to congratulate me on my engagement. Our friendship is one I'll always treasure.
You've always been such a blessing. Thank you for sharing in our joy for our engagement.
[Fiance's name] and I were so happy to see you at our wedding shower. Thank you for coming and for the [insert gift]. We look forward to seeing you at our wedding.
Thank you so much for the generous and thoughtful gift. I was really touched by it and can't wait to use it.[2]
Sending you our love and gratitude for the engagement gift and your kind words.
I wanted to send a thank you note for the beautiful engagement gift. It really means a lot to us that you took the time to pick out something so special. We are looking forward to seeing you at our wedding.[2]
Just wanted to let you know how thankful I am for the engagement gift and for our friendship. Here's to a lifetime of happiness for us both.
Your beautiful engagement gift came as such a surprise! Thank you for thinking of me.
How to Write the Perfect Engagement "Thank You" Message
Depending on how many people you need to thank, it might be easier to choose a one-size-fits-all message, or you might want to write something unique for each person.
If you would prefer to create more personalized messages, here are a few tips to help you get started.
Mention the wedding. When thanking others for engagement gifts, it's nice to let them know you're also looking forward to seeing them at your wedding.
Let them know they made the announcement or party more memorable. Guests or loved ones will appreciate that you're thanking them for more than the gift alone. Messages of thanks are more meaningful when they're also about the person's presence and importance in your life.
Make it specific. If a gift was given, be sure to thank them for that particular item. (For example, "Thank you for the photo album" instead of "Thank you for the gift.") Even if it's a gift card or cash, let them know how much you appreciate it. You might also want to mention what the money was used for and thank them for it, if appropriate.
Take a minute to think it through. Before you begin, take the person receiving your thanks into consideration. Think about what you want to say to them. This will help you avoid rewrites or accidentally leaving out something you wished you could have said.