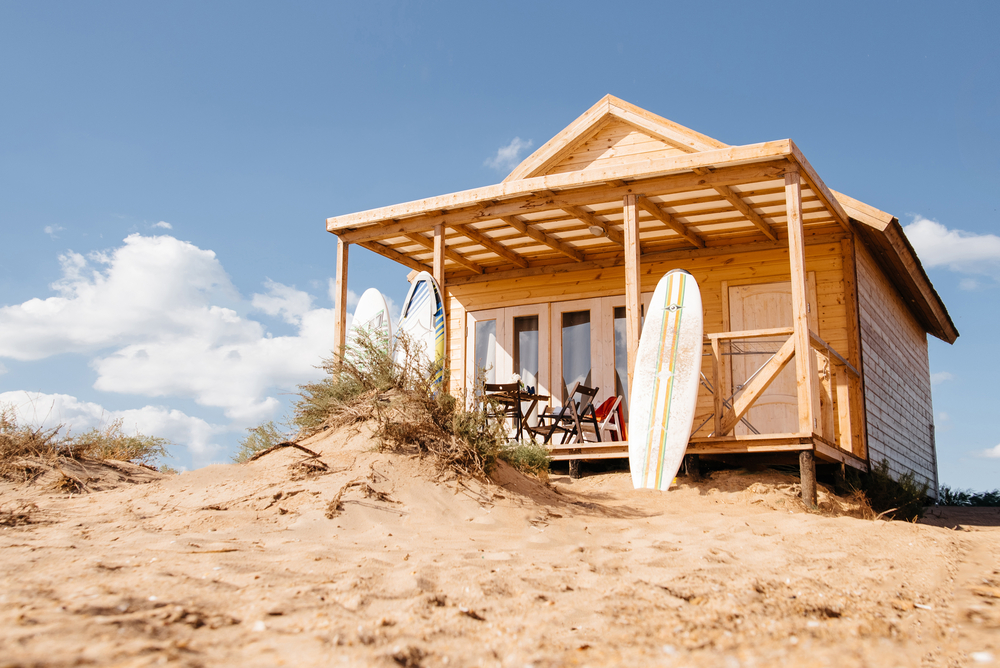 The beach is a great place to unplug and unwind. The sound of waves crashing against the shore alone has been proven to relieve stress.[1]
Plus, not only does sea air provide clearer breathing, but the salt and minerals in the ocean can also help to heal small wounds, fight infections, and reduce inflammation.[2]
Needless to say, a trip to the beach is one of the best ways to relax and find inner peace.
When you have the opportunity to stay at a beach house, showing thanks to the owner for offering you such a relaxing environment for your trip is a nice gesture.
Here, we provide the list of unique ways to say, "thank you for letting us stay at your beach house," whether it's to a friend or an Airbnb host. We also offer a few tips for crafting your own message.
[We] wanted to personally reach out and thank you for sharing the beauty of your piece of paradise with us. It was truly a retreat for mind, body, and soul. For this, we all thank you![3]
The time we spent in your beach house provided our family with wonderful memories we'll never forget. Thanks so much for helping to make our vacation so special.
You're an angel! I don't know how we can ever repay you. Thanks for allowing us to stay in your beach house. We had a great time with the kids.[4]
Your beach home was lovely. Thanks for the wonderful getaway. We will definitely be leaving a five-star review.
We just wanted to say a quick thank you for letting us stay at your beach house. It was great for our wedding and honeymoon. We had a wonderful time and couldn't have asked for more.[4]
Thank you so much for letting us stay at your house. The view was breathtaking, and this beach is truly a gem![4]
Your place is such a paradise. We couldn't have asked for more. Thanks so much for the wonderful stay at your beach house. We had more than enough space and the perfect view to enjoy the amazing sunsets.
Thanks for letting us stay in your cozy beach cottage. The kids had a whale of a time and can't wait to come back!
We had such a wonderful time at your place on the beach. Thank you so much for allowing us to stay there. The kids loved being able to go out and play in the ocean every day, and we loved just staying there and relaxing with one another. We really appreciate you letting us use it for this past summer.[5]
Thank you for letting us rent your vacation home. Your place is beautiful and such a lovely place to unwind from our business week. We had so much fun, and cannot thank you enough.[5]
Thank you for your wonderful hospitality. Your beach house had everything we needed and more. The kids loved playing your games and using the floaties. My [wife/husband] and I truly enjoyed the sanctuary of our en suite. The positive online reviews for your house are spot on!
This isn't a thank-you card; it's a hug with a fold in it. Thanks for your generous hospitality![6] I truly enjoyed my time visiting you in your beautiful beach home.
Thank you for letting us use your vacation home. Your spot on the beach is beautiful… When we get to come back (and we will) we'd love to return to your vacation home again. You were an excellent host, and we could not have asked for more from our visit. Thank you again for sharing your house with us.[5]
Your house is huge and so beautiful! It was the perfect place to relax and recharge. Thanks so much for letting me stay in it. I owe you one.
Letting me stay at your beach house couldn't have come at a better time. I really needed that. Thanks so much for being such a great friend.
A special thanks to our gracious hosts. We loved the view and being able to wake up to the crashing waves… Thanks again for letting us use your vacation home. We had a great time, and I hope we can do it again.[5]
Thank you for letting us use your vacation home this summer! I really enjoyed the pool and BBQing in the backyard. I hope we can use it again next year.[5]
What a wonderful trip to "seas the day." We had so much fun. Thanks again for sharing your beach house.
as in "seize the day"
My family and I can never thank you enough for allowing us to stay at your beautiful beach house. It was so generous of you. We enjoyed cooking in your spacious kitchen and sharing meals on your patio as we watched the ocean and beautiful sunset.
Many thanks for your generous welcome and hospitality. It was all I could have hoped for and more.[6]
What an amazing place! Thank you for hosting us at this fantastic house! We had a great time relaxing, playing games, beach combing, shopping, and eating fantastic food.[3]
How to Craft the Perfect "Thank You" Message
Choosing or creating the right message to thank someone can be challenging, especially after a really spectacular experience like a week or two at the beach.
Here are some helpful pointers for creating your own personalized message.
Mention the highlights of your getaway. It's always nice to hear about someone's positive and unique experiences. Jot down a few memories you made during your stay, local attractions you enjoyed visiting, or amenities available at the beach house that made your stay more relaxing. The beach house owner will definitely appreciate hearing they had a hand in your fun times.
Use beach-themed words and phrases. You'll have more fun creating a thank you message if it involves the beach. Look up beach-related puns or jokes that you can work into a thank-you note, such as "Every day was Sun-day during our wonderful stay" or "I feel an urgen-sea to come back for another stay!" This will take you back to your grand adventure, and the receiver will get a kick out of it, as well.
Compliment the house. People love getting compliments, especially when they've worked hard to renovate or decorate their property. Mentioning some of your favorite things about their beach house will make the owner feel good and might give them some great ideas for improving their online listing if they have one.