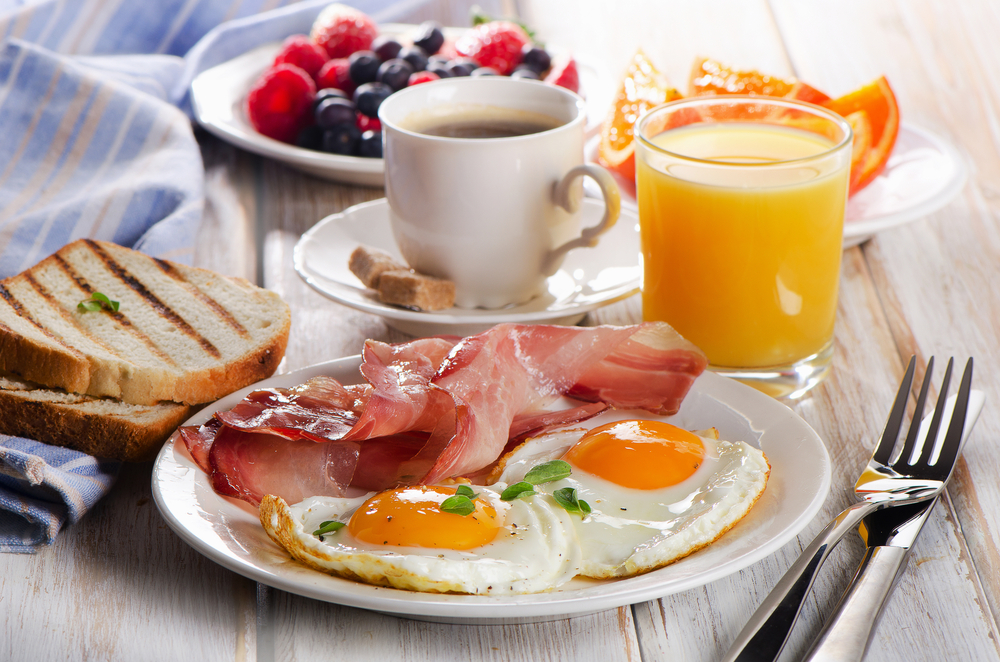 We've all heard the saying, "Breakfast is the most important meal of the day."
It offers great health benefits, such as boosting energy and focus, as well as promoting better weight management and overall health.[1]
Unfortunately, not everyone has time to make breakfast in the morning. If someone's done this for you, be sure to thank them.
After all, breakfast is about more than just avoiding hunger pangs — it wakes up your metabolism and gives you the energy to go about your day.[2]
Below, we have the list of ways you can say, "Thank you for breakfast," as well as tips on how to choose the right one.
Breakfast was so good, it's "bacon" me crazy just thinking about it. Thanks for doing that for me. You're the best!
I sincerely appreciate all the time you spend making our breakfasts. Starting the day with a healthy meal and with my sweetheart is incredible. I love you so much, and I try not to take for granted how much effort you put into making delicious meals.[3]
I don't know if you realize what a rough morning I was having when you surprised me with breakfast. You turned my whole day around. Thanks so much for your wonderful act of kindness.
It was so thoughtful of you to bring breakfast for everyone. Just wanted to let you know I really appreciate it!
Here's a "toast" to a beautiful new day and a wonderful breakfast. Thank you for the brilliant surprise.
You take such amazing care of me and make mornings a delight with your delicious breakfasts. You'll never know how much I appreciate it.
Breakfast in bed was the best! I really appreciate you taking the time to do that for me. It really made my day!
You are a thoughtful boss! The catered breakfast from [restaurant] was the perfect way to start the long day of meetings. I hope we can make this an annual tradition.[3]
Thanks a "brunch" for making breakfast. Love you!
It was so thoughtful of you to bring breakfast. It gave me the energy I needed to get through a crazy day.
No breakfast stacks up to yours. Thanks for the morning meal and all the great times we've shared!
Thanks so much for showing me the "sunny side" yesterday morning. Breakfast was delicious!
I really appreciate you cooking for me yesterday morning and wanted to let you know our friendship is eggs-tra special to me.
Thanks for everything you do for me. Your breakfasts make mornings the best part of every day.
Thanks for breakfast! It was a total surprise. I owe you one, buddy.
Thank you for making me another excellent breakfast today. I appreciate the time and effort you put into cooking a healthy meal every time.[3]
Thanks for making breakfast. You didn't have to do that, but I truly appreciate it.
Your breakfasts always brighten my day. Thank you for all that you do. Let me know what I can do to return the favor.
Thanks for breakfast! It's the best meal I've had in a while. I didn't know you were such a great cook. Maybe you can share some of your secrets with me!
Thanks a "hole" bunch for the donuts. It was the best breakfast I've had all week!
Breakfast was so yummy! Thanks a million. Hope you have the best day ever.
How to Choose the Perfect "Thank You for Breakfast" Message
If you want to say thank you but you're struggling to choose the perfect message, we have some tips to help!
Personalizing your message or tailoring it to the situation (such as an office breakfast, a special gesture from your spouse, etc.) will make your appreciation clear and genuine.
Think about the person you're thanking. If it's someone you're close to, it's okay to be a bit more personal or include humor in the message. If your boss or a distant coworker provided breakfast to everyone at work, however, you'll probably want to keep it more formal and simple.
Give a compliment. It's nice to be specific. You may want to choose a message you can alter to include a mention of what foods you enjoyed or the occasion. You might also say what a great cook the person is if they provided a homemade meal.
What's on your mind? The best message is the one that most closely matches your feelings and thoughts. Think through your top choices and choose the one that sounds the most like you and what you want to say.