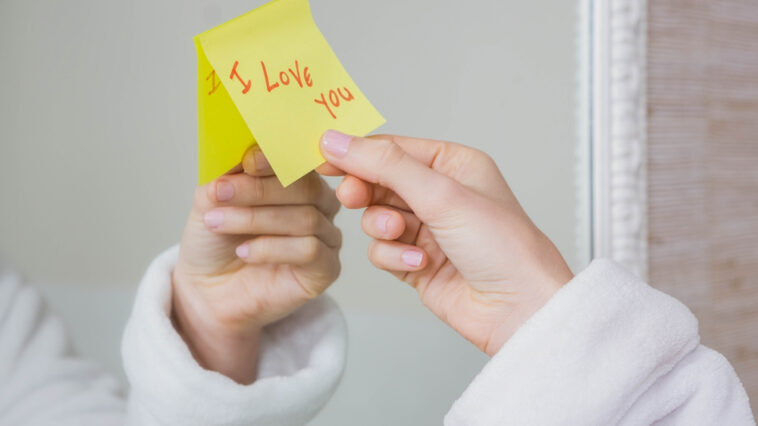 Love notes are a timeless expression of affection. They often become treasured keepsakes, serving as a reminder of the earliest days of one's romance.
The practice of writing love letters has been around for centuries but became more popular during the Renaissance period as a way for loved ones to maintain their bond even when far apart.[1]
A good love note can leave the receiver feeling more in love and more committed to the relationship.[2]
Whether it's for a text message, a card, or you're writing a good old-fashioned love note, we have the list of short messages for her below.
Feel free to personalize or combine notes in any way you please. You'll also find tips for creating your own love note following the list.
To the most beautiful woman in the world, you make my heart skip a beat every time I see you. Love you!
In your soft, feminine arms, I've found my happy place. I love you without end.
I could spend eternity with you, [girlfriend's/wife's name], and it would never be enough.[3]
Sweetheart, you are my sunshine on the cloudiest of days. I'll love you forever and always.
I fall for you all over again, girl, every single day.
I cherish every minute we spend together, [girlfriend's/wife's name]. You are forever my one and only.
Every moment spent with you, my angel, is like a glimpse of eternity.
You're the missing piece that completes this man's heart. I love you to the moon and back.
Becoming your [boyfriend/husband] has brought joy I've never known to my life each and every day.
You're the most beautiful, wonderful, caring woman I've ever known. My love and admiration for you are immeasurable.
I love the way it feels to be your [boyfriend/husband]. I can't believe how lucky I am to be loved by you.
Your sweet, gentle embrace is my favorite place in all the world.
My love for you feels like magic. I'm so lucky to have you as my [girlfriend/wife].
A [girl/woman] like you is the sweetest melody in the soundtrack of love.
In the tapestry of my life, your love is like threads of gold.
Girl, just thinking about you brightens my day.
You're the reason I believe in love. You, my angel, are my everything.
You're the reason I believe in miracles. Thank you for being my [girlfriend/wife].
Your love is the greatest gift I could ever receive. I love you without end, my darling.
It only took one look at you to know you were going to become my wife. I thank God every day to have you in my life.[4]
Your beautiful smile is like a work of art.
I want to make you the happiest woman in the world.[5]
Even spending forever as your [boyfriend/husband] would be too short a time to spend with you.
Your love and woman's touch are euphoria to me.
I can't believe I found a woman as amazing as you. There aren't even words to express how much I love you.
I'm so blessed to have you as my [girlfriend/wife]. I promise to love you always and to never take you for granted.[3]
[Girlfriend's/wife's name], being with you is my dream come true.
Your beautiful smile is my favorite sight. Oh, how I adore you.
Loving you makes me feel like the luckiest man alive.
"And she became his wife, and he loved her." -Genesis 24:67[5]
You're truly my dream[girl/woman] and I'll never let you go.
How to Write Your Own Short Love Note
Writing a love note is a beautiful way to express your affection and love for that special someone. It may even become a cherished memento she'll return to again and again throughout the years.
Keep these tips in mind when writing your own heartfelt note:
Express your commitment. Let her know that you cherish your relationship and how much it means to you. It will mean a lot to hear that you're committed to being there for her through the good times as well as the bad times.
Share the qualities you love most about her. Acknowledge the things you admire most in her and express your appreciation for all the things that make her unique. She's the woman you love — let her know what sets her apart from everyone else in your heart and mind. This is a surefire way to create a personalized love note that stands out.
Be sincere and authentic. Anything less could seem fake, and no love note is generally better than a fake one. It's best to speak from your heart and let your love shine bright through your words.